News

Ouran Cast Films Crossover in Shirato Osamu no Jikenbo Show

posted on by Egan Loo
Haruna Kawaguchi, others make cameo in series starring Yūdai Chiba (Ouran's Honey)
---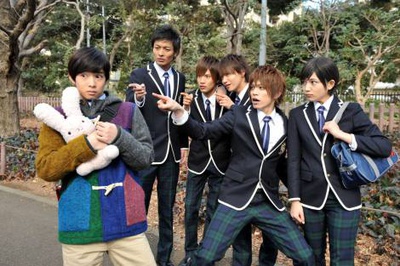 The main cast of the Ouran High School Host Club film will make a cameo on the eighth episode of Shirato Osamu no Jikenbo (The Case Files of Osamu Shirato), the Japanese live-action detective series starring Yūdai Chiba as the title character, on March 16. Not coincidentally, Chiba also played the character Mitsukuni "Honey" Haninozuka in the manga-based live-action Ouran High School Host Club series, which aired in Shirato Osamu no Jikenbo's timeslot last July. The Ouran High School Host Club film will open in Japan on March 17, one day after the crossover episode airs.
In the crossover scene, Ouran High School Host Club's heroine Haruhi (played by Haruna Kawaguchi) and male co-lead Tamaki Suou (Yusuke Yamamoto) are surprised to see Shirato walking past, and calls out, "Wha—? Is that you, Honey-sempai?" Shirato replies, "No, sorry, I'm Shirato," and the two sides chat for a bit. Even though Chiba will be playing (and dressing as) Shirato in the scene, he will be clutching Honey's signature "Usa-chan" plush rabbit.
Oricon posted more photographs in higher resolution from the upcoming crossover episode.
Source: Oricon
Image © TBS
---