News

CG Captain Harlock Remake Has International Dub Plans (Update 2)

posted on by Egan Loo
Full English script, character intros, gallery, figure preview posted online by film sales company
---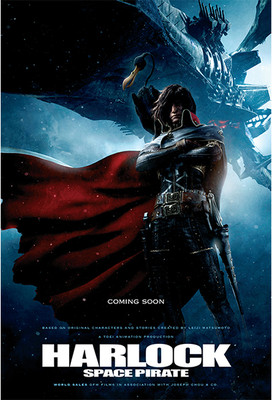 The London-based film sales company GFM Films listed that it is working on an international dub for Toei's Captain Harlock computer-graphics film. The website noted that the international version of the film is in post-production.
The website had also posted the full English script, as well as a password-protected promotional video, which GFM Films noted will screen at France's Cannes Film Festival on May 15-26. The website had also posted English character introductions, an image gallery, and a preview for an upcoming figure line by Square-Enix for the company's PlayArts line. According to the website, Hot Toys is also planning 1/6-scale figures of Harlock and Kei, as well as a scaled figure of the Arcadia ship. GFM Films noted that the figures will be shown at Square-Enix's San Diego Comic-Con International booth along with the film's trailer.
A quote from filmmaker James Cameron promoting the film was included on the site's front page. Cameron's involvement in the international version is not confirmed.
GFM Films has since restricted access to its Captain Harlock website as of Friday.
The film will star actors Shun Oguri and Haruma Miura in the Japanese version, and will open in Japan on September 7.
Update: GFM Films' website for the film, including all the links linked to within this article, no longer work. Thanks, yamiangie.
Update 2: Removed image gallery per Toei Animation and GFM Films' request, and removed links to GFM Films' Captain Harlock website as access to the website has been restricted.
Thanks to Liam, Gwyn Campbell, and Vito Plahuta for the news tips.
---