News

Fate/kaleid liner Prisma Illya Drei!! Manga to Bundle Anime Blu-ray

posted on by Sarah Nelkin
---

The limited edition of Type-Moon and Hiroshi Hiroyama's fourth Fate/kaleid liner Prisma Illya Drei!! magical girl manga volume will bundle an original anime Blu-ray Disc on January 25, 2014. Kadokawa Shoten will accept orders for the brand-new 25-minute anime until October 14. The set containing the manga and the Blu-ray will cost 3,990 yen (about US$39).
The official website for the Fate/kaleid liner Prisma Illya!! television anime revealed the additional cast members on Thursday:
The website also posted the character designs for the main characters:
Mai Kadowaki
as Illyasviel von Einzbern, an ordinary elementary schoolgirl who dreams about anime magical girls — until she encounters Magical Ruby and assumes the duties of a real magical girl  

Kaori Nazuka as Miyū Edelfelt, the aloof, smart, athletic girl who also becomes a magical girl after encountering Magical Sapphire and Luvia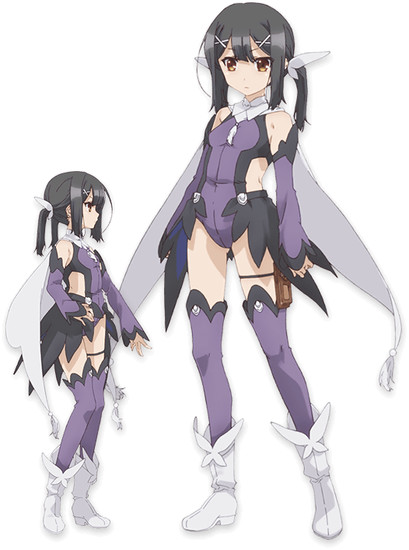 Kana Ueda as Rin Tohsaka, a Magus who arrives in Japan from London to collect hidden cards after Magical Ruby escaped from her, due to her rivalry with Luvia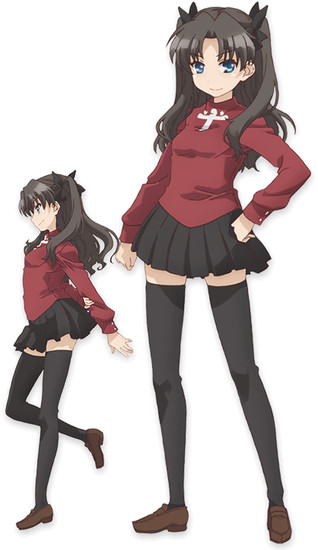 Shizuka Itou as Luviagelita Edelfelt, the haughty girl who came to Japan to collect cards. Magical Sapphire escaped from her after her competition with Rin grew overheated.

Naoko Takano as Magical Ruby, one of the magical Kaleid Sticks which offer its Masters unlimited power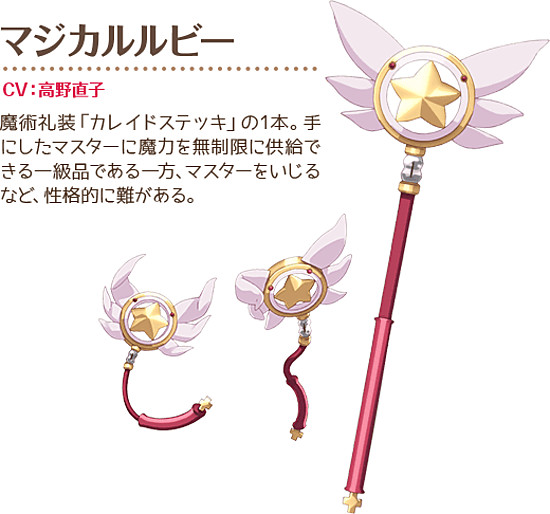 Miyu Matsuki as Magical Sapphire, Magical Ruby's sibling Kaleid Stick. Unlike Magical Ruby, it has a calm, rational personality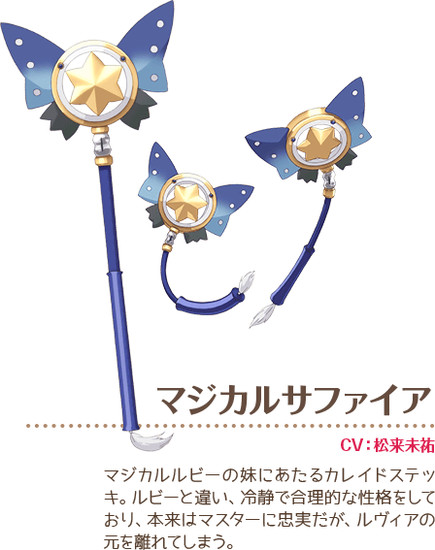 Hiroshi Hiroyama's original Fate/kaleid liner Prisma Illya manga re-imagines the Fate/stay night character Illyasviel von Einzbern in an alternate universe as a magical girl. The manga ran in Kadokawa Shoten's Comp Ace from 2007 to 2008. Hiroyama then launched two sequel manga series: Fate/kaleid liner Prisma Illya Zwei! from 2009 to 2012 and the most recent, Fate/kaleid liner Prisma Illya Drei!!, last year.
Shin Oonuma (Baka and Test - Summon the Beasts, Dusk maiden of Amnesia) is directing the anime at SILVER LINK Kenji Inoue (Baka and Test - Summon the Beasts) is supervising the series scripts being written by Hazuki Minase (C³). Nozomi Ushijima (animation director on Baka and Test - Summon the Beasts 2, C³, Dusk maiden of Amnesia episodes) is designing the characters, while Tatsuya Katou (Horizon in the Middle of Nowhere, Kämpfer, Medaka Box) is scoring the music. In addition, Takashi Sakamoto (episode director on Baka and Test - Summon the Beasts 2, C³, Dusk maiden of Amnesia) is serving as chief director.
The anime's main cast are reprising their roles from a previous drama CD. Mai Kadowaki and Kana Ueda play Illyasviel von Einzbern (Illya) and Rin Tohsaka respectively from Fate/stay night and Fate/Zero. Kaori Nazuka (Code Geass' Nunnally, Eureka Seven's Eureka) plays Miyū Edelfelt, Shizuka Itou (A Certain Magical Index's Kaori Kanzaki, Hayate the Combat Butler's Hinagiku Katsura) plays Luviagelita Edelfelt (Luvia), Naoko Takano (Nadesico's Megumi Reinard, Brighter than the Dawning Blue's Midori Tooyama) plays Magical Ruby, and Miyu Matsuki (Hayate the Combat Butler's Isumi Saginomiya, Hidamari Sketch's Yoshinoya-sensei) plays Magical Sapphire.
Singer ChouCho (Hyou-ka, Heaven's Memo Pad) is performing the anime's opening theme song, and the new revamped group StylipS is performing the anime's ending theme song "Prism Sympathy". The anime will premiere first on the Nico Nico video streaming website before its first television broadcast in July.
[Via: 0takomu]
Images © 2013 Hiroshi Hiroyama, Type-Moon, Kadokawa Shoten/Prisma Illya Production Committee
---