News

Madman Release Announcements from AVCon 2013

posted on by Jon Hayward
Australian anime distributor announces new acquisitions during AVCon 2013 in Adelaide, including new Reel Anime 2013 title;
---
The following announcements took place during Adelaide's AVCon 2013 in the Adelaide Convention Center. The Reel Anime 2013 announcement of Ghost in the Shell Arise was made during the Madman National Cosplay Championship round and the remaining announcements were during Madman's panel on Sunday morning. The announcements can be viewed on Madman's facebook page. We will update this news article as information is confirmed.

Ghost in the Shell Arise
Set in the year 2027, one year after the end of the non-nuclear World War IV. A bomb explodes in Newport City and kills a military officer implicated in arms-dealing and the mysterious 501 Organisation. During the investigation Public Security Section 9's Daisuke Aramaki encounters Motoko Kusanagi, a cyborg hacker assigned to the 501st. "Sleepless Eye" Batou suspects that Kusanagi is behind the bombing and Niihama Prefecture Detective Togusa is investigating a series of murders he believes are related to the incident.
Consisting of four 50-minute parts, Ghost in the Shell Arise is an OVA series following the first meeting of Motoko Kusanagi and Section 9. The parts are called borders and border:1 Ghost Pain was released to Japanese theaters on the 22nd of June 2013. border:2 Ghost Whispers will be released on the 20th of November 2013.
Kazuchika Kise (chief animation director for Otogi Zoshi, Blood-C: The Last Dark) is directing the series and designing the characters and Tow Ubukata (Le Chevalier D'Eon, Mardock Scramble) is supervising and writing the scripts. Production I.G is producing the series, and Cornelius (Appleseed: Ex Machina) is composing the music.
The series has a new voice cast with Maaya Sakamoto as Mokoto Kusanagi, Kenichirou Matsuda as Batou, Tarusuke Shingaki as Togusa, Tomoyuki Dan as Ishikawa, Takurou Nakakuni as Saito, Youji Ueda as Paz, Kazuya Nakai as Borma, Ikkyuu Juku as Daisuke Aramaki, Mayumi Asano as Kurutsu, and Takanori Hoshino as Raizō.
While Funimation has just announced they will be releasing Ghost in the Shell Arise in the United States we can assume that no English dub will be available for Reel Anime 2013. We can also assume that only border:1 Ghost Pain will be screened as part of Reel Anime 2013.
© Shirow Masamune • Production I.G / KODANSHA • GHOST IN THE SHELL ARISE COMMITTEE

Attack on Titan
Humanity has been hunted down and nearly exterminated by giants, these Titans are several stories tall and devour human beings for pleasure. To protect themselves, humanity has built multiple giant walls around their cities, taller than the tallest giants. This plan works and the city is undisturbed for 100 years, but suddenly a Colossal Titan appears out of thin air and destroys the outer wall. When this destruction leads to the death of the mother of Eren Jaeger, he swears vengeance and joins the military alongside his adopted sister, Mikasa Ackerman, and vows to kill all titans.
Based on the original manga by Hajime Isayama, Attack on Titan was launched in Kodansha's Bessatsu Shōnen Magazine in 2009. The series has been collected into 10 volumes to date with Kodansha USA publishing the title in North America. This anime adaptation is produced at Wit Studio in collaboration with Production I.G with direction by Tetsuro Araki (Death Note, Highschool of the Dead, Guilty Crown). Attack on Titan also has Yasuko Kobayashi (Shakugan no Shana, Claymore, JoJo's Bizarre Adventure) as head writer, character designer Kyoji Asano (Psycho-Pass, Tokyo Marble Chocolate) with Hiroyuki Sawano (Blue Exorcist, Mobile Suit Gundam UC, Sengoku Basara: Samurai Kings) composing the music. The Japanese voice cast includes Yuuki Kaji as Eren Yeager, Yui Ishikawa as Mikasa Ackerman and Marina Inoue as Armin Arlert.
Madman has announced that Attack on Titan will be streamed for free on the Madman Screening Room in the near future. No dates or plans for home video release have been revealed at this time.

Code Breaker
Sakurakouji Sakura has seen something disturbing, a group of people being burned alive with a blue flame with a boy remaining unharmed in the center of the fire. But when Sakura investigates there are no corpses or evidence of murder. When Sakura finally gets to class she discovers the boy, Ogami Rei, is a transfer student to her class and a "Code:Breaker", a special assassin and a member of a secret organisation that serves the government.
Based on Akimine Kamijyō's manga of the same name has been published in Kodansha's Weekly Shōnen Magazine since 2008. This 2012 13-episode anime adaptation was produced by Kinema Citrus under the direction of Yasuhiro Irie (Fullmetal Alchemist: Brotherhood, Kurau: Phantom Memory). The show's cast includes Kenichi Suzumura (Ouran High School Host Club's Hikaru) as Toki/Code:4, Nobuhiko Okamoto (Blue Exorcist's Rin) as Rei Ōgami, Yōko Hikasa (K-ON's Mio) as Sakura Sakurakōji, Subaru Kimura (Mawaru Penguindrum's Kanba) as Masaomi Heike, Toshiyuki Toyonaga (Durarara!!'s Mikado) as Yūki Tenbōin, Mitsuki Saiga (.hack's Tsukasa) as Rui Hachiōji, and Shinichiro Miki (Bleach's Kisuke Urahara) as Hitomi.
Madman have announced that Code: Breaker will be streamed through the Madman Screening Room soon.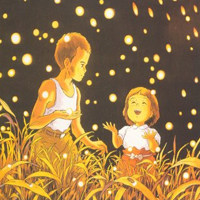 Grave of the Fireflies
Set during the final days of World War II, 14-year-old Seita and his 4-year-old sister Setsuko are orphaned after an air raid kills their mother. The film follows Seita and Setsuko as they struggle to survive, first with their Aunt and later by themselves.
This Studio Ghibli title from 1988 is based on the 1967 semi-autobiographical novel by Japanese novelist Akiyuki Nosaka. Directed and scripted by Isao Takahata (Pom Poko, My Neighbors the Yamadas), Grave of the Fireflies also has animation direction and character designs by Yoshifumi Kondô (Kiki's Delivery Service), art direction by Nizo Yamamoto (Castle in the Sky, The Girl Who Leapt Through Time) and music by Masahiko Satoh and Michio Mamiya.
The Japanese voice cast includes Tsutomu Tatsumi as Seita, Ayano Shiraishi as Setsuko and Akemi Yamaguchi as their Aunt. We have yet to confirm which English dub will be included on Madman's release but we assume it will be the Sentai Filmworks dub with Adam Gibbs as Seita, Emily Neves as Setsuko and Marcy Bannor as their Aunt.
Madman will be releasing Grave of the Fireflies on Blu-ray and DVD at some point in the near future.
©1988 Akiyuki Nosaka/Shinchosha Co.
---