News

3rd Madoka Magica Film to Have Midnight Screenings

posted on by Marlene First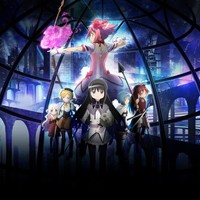 The Madoka Magica Vol. 3 handout announced last week that there will be midnight screening events for the third Madoka Magica film, Gekijō-ban Mahō Shōjo Madoka Magica Shinpen: Hangyaku no Monogatari (Madoka Magica The Movie -Rebellion-) at Tokyo's Shinjuku Wald 9 theater and Osaka's Umeda Burg 7. The theaters will also screen Akiyuki Shinbo's other works: Nekomonogatari (Black) on October 16, Nekomonogatari (White) on October 17, and Le Portrait de Petit Cossette and Hidamari Sketch: Sae/Hiro Sotsugyō-hen on October 25 (just before the third Madoka Magica film). Shinjuku Wald 9 will also host a talk event.
The movie is the third and final film in the Madoka Magica film trilogy. Starting on October 5, participating theaters throughout Japan will offer the third batch of advance tickets with a B2-size poster of the new art. The second batch with one of six different posters in a limited special poster box was sold until October 4.
The film will open on October 26.
Source: Netlab via Seiyuusokuhou
---