News

Rie Kugimiya to Star in Santa Company Anime

posted on by Lynzee Loveridge
Artist
ChouCho
to perform film's theme song
---
The Kickstarter campaign website for Kenji Itoso's planned Santa Company film announced that Rie Kugimiya will star in the film. Kugimiya will voice the character Thomas from the Reindeer Department.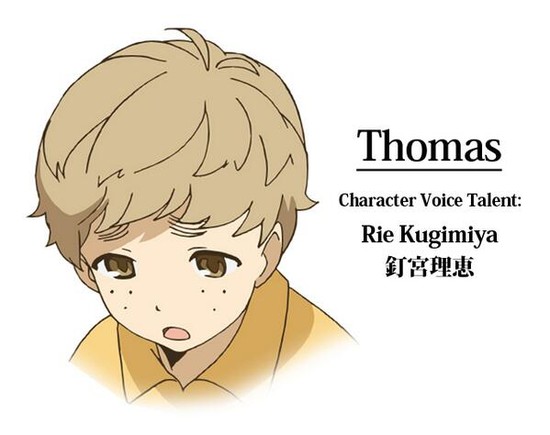 Kugimiya has starred in over 300 anime roles including Nagi Sanzenin in Hayate the Combat Butler, Usamaro in the Blue Exorcist film, Chika in the Hidamari Sketch franchise, and Shana in the Shakugan no Shana series.
The site also announced that artist ChouCho will perform the film's theme song. ChouCho has previously performed theme songs Heaven's Memo Pad, Gargantia on the Verdurous Planet and Fate/kaleid liner Prisma Illya.
The studio is looking to raise US$50,000 by January 2.
Pledge levels range from US$5 to US$10,000, and rewards range from a Christmas thank you card, to a download link of the film, the soundtrack, the film on DVD and Blu-ray Disc, a PDF of original drawings, an artbook with an autograph, a T-shirt, a mug, original physical sketches, and an invitation to come to Japan to have dinner with director Kenji Itoso. The DVD and Blu-ray Discs will include English subtitles. Stetch goals include Finnish and French subtitles at US$100,000; a DVD/BD deluxe edition at US$150,000; an exclusive animated short film and documentary at US$200,000; and an English dub at US$250,000.
The story revolves around Noel, a 12-year-old girl who despises Christmas. She has lived with her father ever since her parents divorced three years ago, but her father ends up busy at work every Christmas and she cannot play with her friends from school.
On a lonely Christmas Eve, Noel takes her usual apartment complex elevator ride to her home, but when the doors open, she finds herself lost in a humongous factory — owned by Santa Claus. Santa Claus has gone corporate as Santa Company with the motto "Fast, Reliable and Secret Delivery." The outfit takes orders and delivers top-notch presents to children in the utmost secrecy. Noel meets some new friends, and together, they take off in a sled to deliver presents.
Naohiro Fukushima (Eden of the East, Eureka 7: Astral Ocean) is writing the script, and artist Hidari (Fractale, Natsu-iro Kiseki) drew the original character design illustrations. Itoso's own KENJI STUDIO (Kotonakare Hero Gingerman) is animating the film. Itoso is serving as producer and executive director, while Yumi Kamakura (episode director for Eureka Seven, Blood+, Gargantia on the Verdurous Planet) is serving as director. Hiroka Harada (Romeo × Juliet, Yu-Gi-Oh! Zexal) is adapting Hidari's character designs for animation.
The 30-minute film is scheduled to be completed by Christmas 2014. KENJI STUDIO plans to host a special screening of the film for families in Fukushima who were affected by the March 2011 tsunami and earthquake disaster. The studio also plans to screen the film at film festivals worldwide, and to host screenings for children using projection-mapping. Additionally, the studio plans to create a curriculum to teach others how to make animation by using the production materials for Santa Company (Itoso is a university professor who researches film techniques).
As of press time, the campaign has raised US$16,309.
The crowdfunding service Anipopo originally launched its beta service in May to raise money for the film, but the project fell short of its 1,000,000 yen (about US$10,000) goal. The Twitter account for the project at the time had stated, "We could not meet our goal this time, but our project won't stop here!"
---