×
remind me tomorrow
remind me next week
never remind me
Subscribe to the ANN Newsletter • Wake up every Sunday to a curated list of ANN's most interesting posts of the week.
read more
News

Hyper Japan Begins Today

posted on by Andrew Osmond
London event will run until Sunday, including anime and Vocaloid singers.
---
The Hyper Japan festival in London runs from Friday July 25 to Sunday July 27. Ticket information is here. As of writing, the site lists on the door availability for all the days of the event. The festival takes place at Earls Court One (directions).
On Saturday, there will be two different sessions to avoid queuing sessions, running from 9:15 a.m. to 2.15 p.m. and from 3.15 p.m. to 8.15 p.m. The venue will be completely closed between 2.15 p.m. and 3.15 p.m.
The scheduled events include the following on the main stage:
Friday
1.30 p.m. - 'Hyper Vocaloid! Yuzuki Yukari x Ishiguro Chihiro x EHAMIC Live & Talk.' Full details are here. Ishiguo Chie provides the voice for a Vocaloid character, Yuzuki Yukari, while EHAMIC is a musican who provides songs for Vocaloids. According to the website, 'ambitious performances such as a duet between Yuzuki Yukari and Ishiguro Chihiro will be held. Plans also exist to unveil a new song specially written for Hyper Japan.'
Saturday

11 a.m. - Nagi Yanagi (pictured right), who has performed closing songs for Bakemonogatari, Naruto Shippūden (both with the group supercell), Waiting in the Summer, Black Bullet, Nagi no Asukara, Jormungand and Jormungand Perfect Order. She has also performed opening songs for Amnesia and My Teen Romantic Comedy SNAFU.
Nagi Yanagi will also appear on the Kawaii stage at 6.10 p.m. on Saturday.
(Event closed between sessions from 2.20 p.m. to 3.40 p.m., see above.)
4.30 p.m - Cosparade
Sunday
12 noon - There will be a performance of AOI Project's VOCALOID Bunraku Puppet Opera, a 30-minute performance in which traditional Japanese puppets dance to Vocaloid singing - more details here.
2.30 p.m. - Cosparade and European Cosplay Gathering UK Preliminaries
4 p.m. - Cosplay Contests Award Ceremony
There will also be performances at the Kawaii stage, including: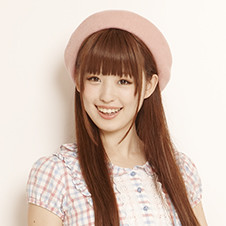 Anna Yano (pictured left) performed the opening songs for Magica Wars and Stella Women's Academy, High School Division Class C3. She will be performing at the following times: 4.30 p.m. on Friday, 5.10 p.m. on Saturday, 12.30 p.m. on Sunday.
Yun*chi, who performed the ending song for Log Horizon, will appear at 5.20 p.m. on Friday, 5.50 p.m. on Saturday and 4.20 p.m. on Sunday.
Nagi Yanagi will appear on the Kawaii stage at 6.10 p.m. on Saturday, see above.
---