News

The World God Only Knows Creator Draws Yōgashi Galaxy One-Shot Manga

posted on by Jennifer Sherman
Tamiki Wakaki
's story follows girl who serves sweet shop's cosmic customers
---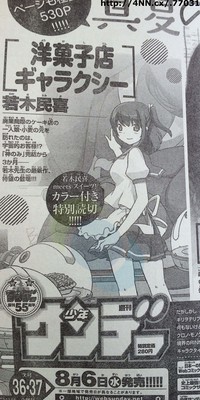 This year's 35th issue of Shogakukan's Weekly Shōnen Sunday magazine is announcing on Wednesday that The World God Only Knows manga creator Tamiki Wakaki's Yōgashi Galaxy (Western Sweet Shop Galaxy) one-shot manga will appear in the next issue. The manga will include color pages in the magazine's combined 36th/37th issue on August 6.
The one-shot's story will center on Komugi, the only daughter in a family who runs a cake shop that is about to go out of business. The shop serves cosmic customers.
Wakaki's The World God Only Knows romantic comedy series ended with its 26th compiled volume on June 18. The series launched in 2008.
The manga's story follows dating sim master Keima Katsuragi, who wants nothing more than to immerse himself in the 2D world, chasing digital girlfriends. But when the so-called "Capturing God" answers a mysterious email from an unknown sender, Keima finds himself chasing down real-life ladies in an attempt to help the peppy demon Elsie de Lute Irma capture "lost souls" escaped from the depths of hell. Now, lest the explosive collar around his neck detonate, Keima must convince various girls to fall in love with him in order to scare out the souls hiding in their hearts.
The series inspired three anime series which streamed on Crunchyroll, and Sentai Filmworks released the first two seasons on home video in North America. The series also inspired several sequel and spin-off OVAs.
---