News

Black Jack's Pinoko Recreated as Robot for Stage Play

posted on by Jennifer Sherman
Waseda University lab recreates girl to adapt
Osamu Tezuka
manga
---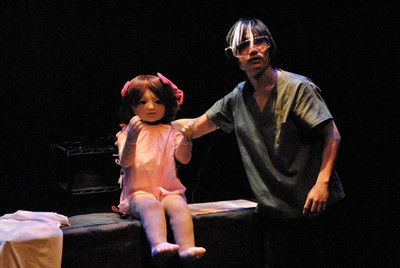 Tokyo's Waseda University announced on Friday that it has recreated the character Pinoko from Osamu Tezuka's Black Jack manga as a robot. The composite art group Human Art Theater is performing Mangeki!! Tezuka Osamu Daiikkan ~Tezuka Osamu no Meisaku ga Butai de Yomigaeru!~ (Manga Play! Osamu Tezuka Volume 1: Osamu Tezuka's Masterpiece Revived on Stage!) in cooperation with the Waseda University Faculty of Science and Engineering's Takanishi Laboratory.
Pinoko is a young girl that appears as the title character's assistant and surrogate daughter in Tezuka's original manga. The unlicensed genius surgeon Black Jack creates Pinoko from a teratogenous cystoma growth that was attached to her twin sister. The surgeon uses his skill to extract Pinoko's jumbled body parts from her twin and create an artificial body for the girl.
The character Pinoko debuted in "Kikei Nōshu" ("Teratoid Cystoma"), the manga series' 12th chapter that the stage play's first act directly adapts. The play's third act adapts the manga's 89th chapter, "Obāchan" ("Granny").

Takanishi Laboratory designed the robot Pinoko's organs, body, arms, and legs to be detachable. The robot's eyes have charge-coupled device (CCD) cameras to allow a projector to present videos from Pinoko's point of view. Pinoko's robot body has 25 motors to give her a complete and charming appearance.
In the play, Pinoko experiences the confusion of receiving a body through surgery. The robot's neck and limbs move as Pinoko familiarizes herself with her new body and experiences the outside world for the first time.
The play is running in Tokyo's Ikebukuro Theater Green Big Tree Theater from February 18 to February 22. Advance tickets cost 5,000 yen (about US$42), and same-day tickets cost 5,500 yen (US$46).
Tezuka's original medical manga first ran in Akita Shoten's Weekly Shōnen Champion magazine from 1973 to 1983. The series has inspired numerous anime adaptations as well as manga sequels and remakes. Vertical released the original manga in North America.
Source: MyNavi News
Image © Tezuka Productions
---