News

Crunchyroll to Stream Baby Steps, I Can't Understand What My Husband is Saying 2nd Seasons

posted on by Lynzee Loveridge
---

Media service Crunchyroll announced on Monday that it will stream Baby Steps 2 and I Can't Understand What My Husband is Saying: 2nd Thread television anime.
Baby Steps 2 will begin for all users on April 5 at 6 a.m. EDT in the U.S., Canada, South Africa, Australia, New Zealand, Latin America (Central and South America including Caribbean), UK, Ireland, Finland, Norway, Sweden, Denmark, Netherlands, and Turkey.
The Baby Steps television anime adapts Hikaru Katsuki's manga of the same name, which revolves around Eiichirō "Ei-chan" Maruo, a punctual and earnest boy who has striven for straight As since elementary school. The 15-year-old high school boy stops by a tennis school to deal with his lack of exercise. There, he meets Natsu Takasaki, a beautiful, earnest girl who only has passion for tennis. The second season's story picks up at a Florida academy where the rival players of the world vie for #1. It is slated for 25 episodes.
The cast also includes:
Taishi Murata as Eiichiro Maruo
Minako Kotobuki as Natsu Takasaki
Daisuke Namikawa as Takuma Egawa
Takuma Terashima as Kojirō Kageyama
Hiro Shimono as Yukichi Fukasawa
Tetsuya Kakihara as Takuya Miyagawa
Tomoaki Maeno as Ryo Ōbayashi
Wataru Hatano as Hiroshi Araya
Yuuki as Yūki Tajima
Taiten Kusunoki as Coach Miura
Asami Seto as Himeko Sasaki
Yoshiyuki Shimozuma as Nariyuki Koshimizu
Shintarō Asanuma as Hiromi Iwasa
Yoshimasa Hosoya as Sōji Ike
Takahiro Sakurai as Yū Nabae
Kentarou Itou as Takayuki Okada
Kenn as Yoshiaki Ide
Kousuke Toriumi as Coach Aoi
The first anime series premiered last April. Pierrot (Naruto, Kingdom) animated the first television series with a total of 25 episodes. Katsuki himself collaborated on the creation of episodes with original stories not told in the manga. Kenji Saito (Dennō Coil, Bakuman., Bottom Biting Bug) produced the anime for NHK. Crunchyroll streamed the first series as it aired in Japan.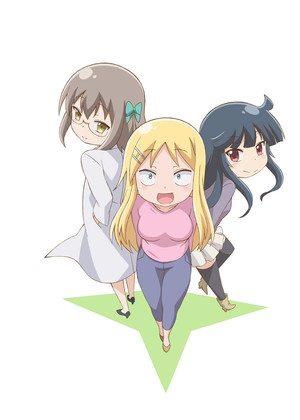 I Can't Understand What My Husband is Saying: 2nd Thread will begin for all users worldwide except Japan on April 2 at 1:30 p.m. EDT. Crunchyroll streamed the first series as it aired in Japan last year.
Cool Kyōshinsha's original four-panel web manga I Can't Understand What My Husband Is Saying (Danna ga Nani o Itteiru ka Wakaranai Ken) follows the daily life of an earnest, hardworking office lady named Kaoru and her otaku husband, Hajime, who is totally immersed in a certain huge net bulletin board system. (The title of the second season refers to how forum threads on that bulletin board system are labeled.)
Yukari Tamura (Kill la Kill's Nui) and Kenichi Suzumura (Senyū.'s Foifoi) star as Kaoru and Hajime, respectively, in the anime. Kaoru and Hajime (as voiced by Tamura and Suzumura) performed the first season's theme song "Ii Kagen ni Shite, Anata" as their characters, and they are also singing the second season's theme song "Yuruganu Futari ~Ai no Sanka" (Unwavering Couple: A Paean to Love).
Shinpei Nagai (Inugami-san to Nekoyama-san) is returning to direct and write the second anime season at the studio Seven. Ryuichi Baba designs the characters and serves as the animation director. Masakatsu Oomuro (Inugami-san to Nekoyama-san) serves as sound director at Dax Production, and G-angle composes the music. Dream Creation produces the project.
---