News

Gakkō Gurashi! Anime's 3 TV Ads Posted

posted on

2015-06-26

13:35 EDT by Crystalyn Hodgkins
Series about girls who survive zombie attack premieres on July 9
---
The official website for the School-Live! (Gakkō Gurashi!) television anime began streaming three TV ads on Friday. The three ads feature the same animation, but have different narration.
Yuki: Mii-kun, school is so much fun, huh?
Mii: Why say that so that so suddenly, Yuki-senpai?
Yuki: Well, because the classroom, the staff room, and the roof are all free for us to use!
Mii: Please study, too!
Both: New program, School-Live! Beginning broadcasts on July 9!
Yuki: Hey Mii-kun! "School-living" is a club activity where you live at school!
Mii: I know that! I'm a member.
Yuki: Why do we live at the school? Because the school exists!
Mii: Maybe I don't know what you're talking about after all...
Both: New program, School-Live! Beginning broadcasts on July 9!
Mii: Yuki-senpai? Can I talk to you for a minute?
Yuki: Hm? What's up, Mii-kun? Oh! Is this what they call a "love confession?"
Mii: Forget it.
Both: New program, School-Live! Beginning broadcasts on July 9!
The anime is based on Norimitsu Kaihō (Nitroplus) and Sadoru Chiba's Gakkō Gurashi! (School-Live!) manga, which began in Houbunsha's Manga Time Kirara Forward magazine in 2012. Houbunsha shipped the fifth compiled volume on March 12 in Japan.
The story of the manga revolves around girls who decide to stay over at school: the energetic Yuki Takeya, the shovel-loving Kurumi, spacey school adviser Megu, level-headed underclassman Mii-kun, and Rii-san, who brings everyone together. However, through mysterious circumstances, the girls find themselves the final survivors in a zombie attack, and continue to live at the school.
The main cast includes (from left to right):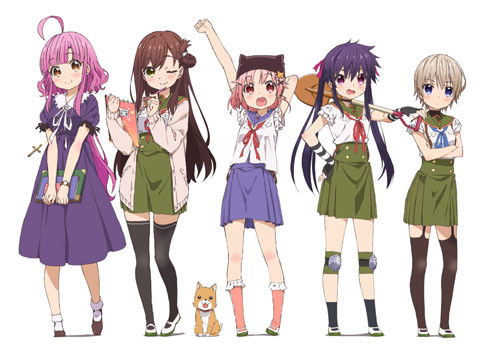 Ai Kayano as Megumi "Megu-nee" Sakura
M.A.O as Yūri "Rii-san" Wakasa
Inori Minase as Yuki Takeya
Ari Ozawa as Kurumi Ebisuzawa
Rie Takahashi as Miki "Mii-kun" Naoki
Other cast members include Emiri Katō as Taromaru the dog (pictured center in above image) and Juri Kimura as Kei Shidō.

Masaomi Ando (White Album 2) is directing the anime at Lerche (Assassination Classroom, Carnival Phantasm). Nitroplus is credited with producing the scripts. The original manga's writer, Norimitsu Kaihō (Gunslinger Stratos) is in charge of the series scripts, while Haruko Iizuka (Little Busters!, Tamayura) is designing the characters.
Maon Kurosaki will perform the anime's ending theme song "Harmonize Clover." Minase, Ozawa, M.A.O, and Takahashi will perform the opening theme song "Friend Shitai" under the unit name Gakuen Seikatsubu.
The show will premiere on July 9 in Japan.
Yen Press announced earlier this year that it licensed the manga for release in North America. The first volume is set to ship in November.
---