News

Asuca Hayashi Performs Pokémon the Movie: I Choose You!'s Ending Song

posted on by Jennifer Sherman
---
The staff of Pokémon the Movie: I Choose You! (Gekijōban Pocket Monster: Kimi ni Kimeta!), this year's new Pokémon film, announced at a preview event on Sunday that Asuca Hayashi will perform the film's ending theme song "Oración no Theme ~Tomo ni Arukou~" (Oración Theme: Walk Together). The Aqua Timez band's vocalist Futoshi wrote the song's lyrics, and Akimitsu Honma composed and arranged the music. The official Pokémon YouTube channel began streaming a promotional video that previews the song on Sunday.
The song is based on Shinji Miyazaki's "Oración," an instrumental insert song in the 2007 Pokémon: The Rise of Darkrai film that the character Alice plays to calm Pokémon. Hayashi also performed the ending theme song "Chiisaki Mono" for the 2003 Pokémon: Jirachi Wish Maker film when she was 14 years old. A download pack with "Oración no Theme ~Tomo ni Arukou~," "Chiisaki Mono (Single Mix)," and "Oración" will be available for pre-order through iTunes on Monday, and the release will launch on other music distribution websites on July 15.
Rica Matsumoto (voice of Satoshi) is performing the song "Mezase Pokémon Master: 20th Anniversary" in the film. Matsumoto's original "Mezase Pokémon Master" song was the first opening theme song for the first Pokémon television anime series.
Kouichi Yamadera will voice Marshadow in the film. With the role, Yamadera marks his 20th consecutive appearance in a Pokémon film. Similarly, Shoko Nakagawa will also have a guest role in the film as Nurse Joy. The role marks Nakagawa's 11th consecutive Pokémon film appearance.
Other guest cast members include:
Kanata Hongou as Sōji, a young trainer who is aiming to become a professor.


Shiori Satō as Makoto, an energetic and strong-minded trainer.


Arata Furuta as Bonjii, a researcher who has been chasing after the legendary Pokémon Ho-oh.


The film will open in Japan on July 15.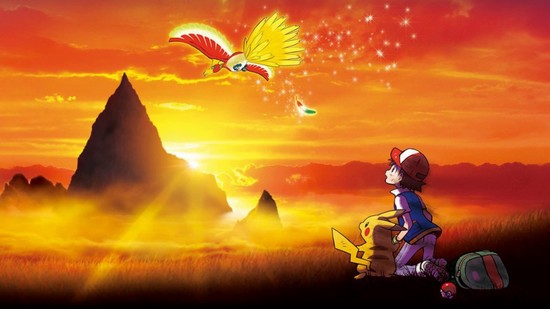 The film's plot tells the story of how Ash (Satoshi) and Pikachu came to know each other. Pikachu was not cooperative toward Ash, but Ash only wanted to be friends with Pikachu. On the day they set out from Pallet Town (Masara Town), both of them saw a Ho-oh flying and made a vow to someday go and meet it.
Satoshi Tajiri is credited with the original work. Pokémon movie director Kunihiko Yuyama is directing the film. Kemon Kawamoto's (Pokémon the Movie: Volcanion and the Mechanical Marvel manga) one-shot manga adaptation of the film debuted in April.
"Pokémon! Kimi ni Kimeta!" is the title of the Pokémon anime's first episode from 1997.
The franchise's most recent film, Pokémon the Movie: Volcanion and the Mechanical Marvel (Pokémon the Movie XY & Z: Volcanion to Karakuri no Magearna), debuted in Japan last July. The English dub debuted on December 5 on Disney XD in the United States.
Source: Animate Times
---