News

Minami Performs Opening Theme for 'Planet With' Anime

posted on by Crystalyn Hodgkins
---

The official website for J.C. Staff and manga creator Satoshi Mizukami's (Lucifer and the Biscuit Hammer, Spirit Circle) original mecha anime Planet With revealed on Saturday that Minami will perform the opening theme song "One Unit." Minami has previously performed theme songs for such anime as Infinite Stratos, Medaka Box, Mobile Suit Gundam AGE, Muv-Luv Alternative: Total Eclipse, and The Devil is a Part-Timer!, among others.
The series will premiere this summer.
The anime's cast includes: (Note: Character name romanizations are not official.)
Atsushi Abe as Sōya Kuroi
Sayaka Harada as Nozomi Takamagahara
Shiori Izawa as Ginko Kuroi
Saori Goto as Kogane Shiraishi
Yuichiro Umehara as Hideo Torai
Hitomi Ohwada as Miwa Inaba
Mai Fuchigami as Harumi Kumashiro
Shinsuke Sugawara as Seigi Nezuya
Shizuka Ishigami as Kureha Takatori
Kazuyuki Okitsu as Yōsuke Hitsujitani
Youhei Suzuki (Aki no Kanade, Urara Meirocho, Sword Oratoria) is directing the anime at J.C. Staff, and Mizukami is credited for series composition for the anime, as well as storyboards and the original script draft. Kazunori Iwakura (Rune Soldier, Aria the Scarlet Ammo, Alice & Zoroku) is designing the characters for animation. Yoshitsune Izuna (Gad Guard, Diebuster) and Yasuyoshi Uetsu (Lagrange - The Flower of Rin-ne, Triage X) are the mechanical designers. Tsuyoshi Isomoto is the prop designer. Yoshikazu Iwanami is the sound director, and Kōhei Tanaka is composing the music.
Mizukami is drawing a manga for the franchise, which launched with the first two chapters in the June issue of Shonengahosha's Young King Ours magazine on Saturday. The magazine had previously hinted in December that Mizukami was working on a new "large-scale" science-fiction series that would debut in April. The below image is a visual for the manga.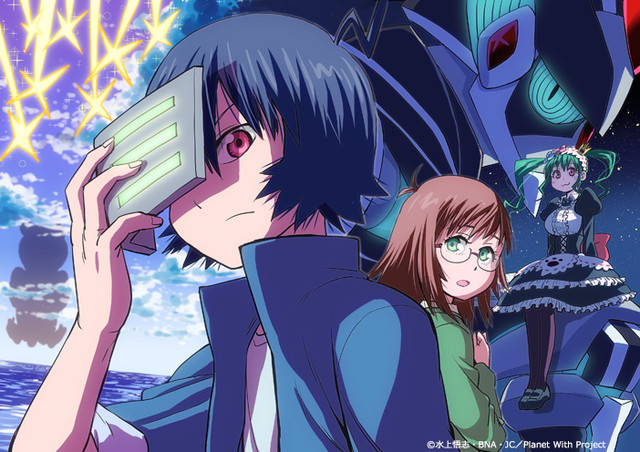 Mizukami drew and wrote the Lucifer and the Biscuit Hammer manga, which launched in Young King Ours magazine in April 2005, and ended in 2010. JManga once carried the manga, and Seven Seas Entertainment later licensed and released the manga in print in North America. Crunchyroll also published the manga digitally.
Mizukami launched his Spirit Circle manga in Young King Ours in May 2012, and ended the series in March 2016. Shonengahosha shipped the sixth and final compiled volume in June 2016. Crunchyroll began simultaneous publication of the manga in 2014, and Seven Seas Entertainment is releasing the manga in print.
Mizukami most recently ended his Nihonmatsu Kyōdai to Mokuzō Keikoku no Bōken manga in December.
---