×
remind me tomorrow
remind me next week
never remind me
Subscribe to the ANN Newsletter • Wake up every Sunday to a curated list of ANN's most interesting posts of the week.
read more
News

Tsurune Anime's 3rd Promo Video Previews 5 Main Characters

posted on by Crystalyn Hodgkins
KyoAni's archery series premieres on October 14
---
The official website for Kyoto Animation's television anime of Kotoko Ayano's Tsurune: Kazemai Kōkō Kyūdō-bu (Tsurune: Kazemai High School's Archery Club) novel began streaming a third promotional video for the series on Friday.
Pony Canyon USA describes the show's story:
The story opens with Minato Narumiya beginning his freshman year at the local Kazemai High School.
Mr. Tommy, advisor to the Japanese archery Club, is keen to recruit Minato, as well as his childhood friends Seiya Takehaya and Ryohei Yamanouchi. Ryohei convinces the reluctant Minato to attend the Club's orientation, where he also meets Kaito Onogi and Nanao Kisaragi.
Singling Minato out, Mr. Tommy introduces him as a rare Japanese archery talent and asks him to demonstrate in front of everyone. However, Minato's arrow fails to hit the mark because he is afflicted by a serious condition…
Minato, Seiya, Ryohei, Nanao and Kaito.
Japanese archery brings them together. What will they attain as they struggle through their beautiful, yet "bitter" youth?
The anime will premiere on the NHK-General channel on October 14 at 24:10 (effectively October 15 at 12:10 a.m.).
The show stars:
Yūto Uemura as Minato Narumiya, a freshman at Kazemai high school. He was enchanted by the archery tournament that he saw as a child with his mother, and has been practicing archery since elementary school. He has lost his self-confidence since his loss at a tournament in his final middle school year, and has since tried to distance himself from the sport. Seiya lives near his house, and they have been close friends since childhood. He gets along well with KUMA, the Takehaya household's pet dog.


Aoi Ichikawa as Seiya Takehaya, a freshman at Kazemai High School. He is a close childhood friend of Minato, and is also the school's archery team captain. He is bright enough to represent the incoming students during the orientation ceremony. While he acts mature, his front shows cracks when it comes to talking about Minato. He normally wears glasses, but switches to contacts when performing archery. His family keeps a large dog named KUMA.


Ryōta Suzuki as Ryōhei Yamanouchi, a freshman at Kazemai High School. He has a cheerful, amiable personality, and can be quite frank. He has been friends with Minato and Seiya since elementary school, but had to change schools, only reuniting with them in high school. He has had an interest in archery since elementary school, and has drawn a bow before, but he only started getting serious in high school.


Shōgo Yano as Nanao Kisaragi, a freshman at Kazemai High School, and Kaito's cousin. He often has to calm down Kaito when he and Minato butt heads. He tends to greet people with his original expression of saying "Mehha." While he can seem like a gaudy and flighty person, in truth he tackles decisions with careful consideration. He is popular with the girls, to the point that he has his own "Nanao Fan Club" in school.


Kaito Ishikawa as Kaito Onogi, a freshman at Kazemai High School, and Nanao's cousin. Ever since they were young, Nanao has looked out for Kaito. He carries himself with a world-wise air, but he has a short temper. He takes archery very seriously. When he finds out that Minato ran away from the sport before, he has difficulty accepting him as a friend. He reads books in his spare time. His family keeps a cat named Lucy.


Shintarō Asanuma as Masaki Takagawa, a mysterious man whom Minato met at the Yoda-no-Mori archery dojo. His archery is skilled and beautiful, but he acts like an old man.


Kensho Ono as Shū Fujimura, a freshman at Kirisaki High School. He is a quarter-Japanese, with his grandfather hailing from England. His style of archery has the brilliance and character of someone of noble lineage, and it has led him to being nicknamed the "Young Lord." He is a veteran archer, excelling even in the ranks of Kirisaki's archery team. He is a former teammate of Minato and Seiya. He is fond of Japanese food.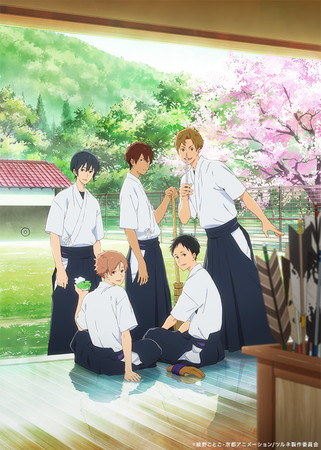 Takuya Yamamura (Violet Evergarden episodes 7 and 12 director, Sound! Euphonium episodes 3 and 10 director) is directing the anime as his series directorial debut, while Michiko Yokote (Shirobako, Children of the Whales, Karakai Jōzu no Takagi-san) is in charge of series scripts. Miku Kadowaki (Beyond the Boundary, Amagi Brilliant Park, Miss Kobayashi's Dragon Maid) is designing the characters. Harumi Fuuki (Miss Hokusai, The Piano Forest) is composing the music. Lantis is credited for music production.
Luck Life will perform the opening theme song "Naru," and ChouCho will perform the ending theme song Orange-iro" (The Color Orange).
The first novel received a Special Judge Award in the novel category at the 7th Kyoto Animation Awards in 2016. Kyoto Animation then published the book under its KA Bunko imprint in December 2016 with illustrations by Chinatsu Morimoto. KA Bunko released the second novel on February 9.
Source: Tsurune: Kazemai Kōkō Kyūdō-bu anime's website
---