News

Odex Screens Stand By Me Doraemon 2 Anime Film in Southeast Asia

posted on by Rafael Antonio Pineda
Film opened in Japan last November at #2
---
Odex began streaming two English-subtitled trailers for the Stand By Me Doraemon 2 CG anime film on Wednesday. Odex will open the film in Singapore, Malaysia, the Philippines, Brunei, and Indonesia, but has not yet announced an opening date.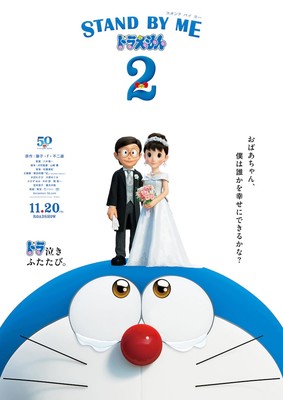 The film opened in Japan on November 20 last year. The film was originally slated to open in Japan on August 7 until it was delayed due to the new coronavirus disease (COVID-19). The film sold 305,000 tickets and earned 386 million yen (about US$3.69 million) to rank at #2 in its opening weekend. As of January 17, the film has sold a total of 2.13 million tickets, and has earned a cumulative total of 2,631,770,200 yen (about US$25.36 million).
The film's story is largely based on the franchise's 2000 film Doraemon: Obāchan no Omoide (Doraemon: A Grandmother's Recollections), but adds original elements, including the love story of Shizuka and Nobita that was also present in the previous Stand By Me Doraemon film. The 2000 film, in turn, was based on a chapter from the fourth manga volume.
Ryūichi Yagi and Takashi Yamazaki returned from the first film as directors, and Yamazaki once again penned the script. Masaki Suda performed the film's theme song "Niji" (Rainbow).
The first Stand By Me Doraemon film was the first 3D CG film in the franchise, and it eventually earned 8.38 billion yen (about US$77.16 million) in Japan and over 10 billion yen worldwide (about US$90 million).
---