Grand Cosplay Ball Announces New Band and Mystery Guest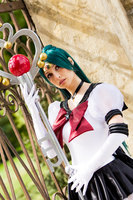 The Grand International Cosplay Ball has announced that world-famous cosplayer and Eurobeat singer Giorgia Vecchini will be joining Yaya Han as joint guests of honour at this year's Grand International Cosplay Ball!
Hailing from Verona in Italy, Giorgia is best known for winning the 2005 World Cosplay Summit and as the official cosplayer for Winx Club. She is also a singer with Eurobeat label Go Go's Music.
Both Yaya and Giorgia will be signing autographs at Tokyo Toys' store in London's Picadilly Circus on Saturday, November 28th in preparation for the ball.

Also performing at the Grand Cosplay Ball are steampunk-inspired band Tough Love. Described as 'the afrobeat Scissor Sisters', Tough Love have made a name for themselves on London's alternative dress-up scene, co-ordinating White Mischief, London's largest steampunk and Neo-Victorian club night.
Other entertainment on the night will include musical performances, an aerial act and a Fairytale-themed Lolita fashion show by Loligoth UK.
The Grand International Cosplay Ball is taking place at The Clapham Grand on Sunday, 29th November.
For more info and tickets, please visit:
http://www.grandcosplayball.com
.
Grand International Cosplay Ball
Venue: The Clapham Grand, St. John's Hill, London SW11
Date: 29th November 2009
Time: 7pm - 1am
Dress code: Cosplay or smart/elegant dress only
Age Limit: 18+
Ticket price: £18
Guests:
Yaya Han (cosplayer and professional costumier)
Giorgia Vecchini (cosplayer and Eurobeat singer)
Tough Love (steampunk band)
Johnny Lazer (singer and compere)
Sonia Leong and Emma Vieceli (manga artists and performers)
---
discuss this in the forum (1 post)
|