Monthly Manga Anthology Shonen Jump Joins Art, Science Fiction and Biographical Releases to Make for Unique Gift Ideas this Holiday Season from Viz Media
VIZ Media completes several recent announcements about some of the hottest anime and manga releases for kids, teens and adults – all available in time for the holidays – with a spotlight on a few other noteworthy gift ideas that will delight readers!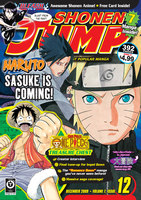 These include a 2010 subscription to North America's leading monthly manga magazine - SHONEN JUMP – now available at a special low holiday rate that is 50% off cover price. Other releases include STARTING POINT: 1979-1996, a collection of biographical essays and interviews by and about Hayao Miyazaki, one of Japan's most beloved animation directors, as well as a new art book for his latest film, PONYO. The latest two Japanese science fiction novels – USURPER OF THE SUN and ZOO – are also new from VIZ Media's Haikasoru imprint.
SHONEN JUMP MAGAZINE
Give the gift of SHONEN JUMP (12 HUGE issues) at a special LOW HOLIDAY RATE of only $29.95 (Canadian price: $41.95). That's 50% off the cover price! Subscribers also receive 2 free YU-GI-OH! cards – Genesis Dragon and Orichalcos Shunoros – with each paid subscription. Please allow 6 - 8 weeks for delivery.

STARTING POINT: 1979-1996 · MSRP of $29.99 U.S. / $34.99 CAN · Available Now!
This insightful collection of essays covers the first half of director and Studio Ghibli founder Hayao Miyazaki's legendary career, during which he rose from humble beginnings to create some of the most-loved animated features ever made, including Nausicaä Of The Valley Of The Wind, Castle In The Sky, My Neighbor Totoro, Kiki's Delivery Service and Porco Rosso. A fitting introduction is offered by John Lasseter, the Chief Creative Officer at Pixar and Walt Disney.
THE ART OF PONYO MSRP: $34.99 U.S. / $39.99 CAN · Available Now!
A comprehensive softcover edition featuring striking watercolor and pastel concept sketches and layout pages from the film, as well as interviews with production principals and the complete screenplay to give an inside look at the entire creative process behind PONYO, the acclaimed film from Hayao Miyazaki. The movie is a wondrously imaginative retelling of the timeless Hans Christian Andersen's fairy tale "The Little Mermaid," starring a little fish-girl named Ponyo, whose father happens to be a great sorcerer of the seas.
ZOO by Otsuichi · MSRP: $13.99 U.S. / CAN $16.00 · Available Now!
ZOO presents eleven tales of dark fantasy and science fiction by one of Japan's hottest authors. "The White Hut in the Forest" is the story of a man with a hole in his head and a charming home made from some strange materials. "Song of the Sunny Spot" is a rendition of the classic story of the Earth's last man...and his charming companion. And in the book's eponymous tale, a man sees his dead girlfriend's corpse decompose, one gristly Polaroid snapshot at a time. ZOO sold over 740,000 copies in Japan and was also turned into a successful Japanese film.
USURPER OF THE SUN by Housuke Nojiri · MSRP: $15.99 U.S. / CAN $18.99 · Available Now!
Aki Shiraishi is a high school student working in the astronomy club and one of the few witnesses to an amazing event—a mysterious tower being built on the planet Mercury. Soon after, the enigmatic Builders construct a ring around the sun, and the ecology of Earth is threatened by its immense shadow. Aki is inspired to pursue a career in science, and the truth. She must determine the purpose of the ring and the plans of its creators, as the survival of both humanity and the alien Builders hang in the balance. A compelling new hard science fiction novel, USURPER OF THE SUN won a coveted Seiun Award in 2002 for Best Science Fiction Novel of the Year.
About VIZ Media, LLC
Headquartered in San Francisco, CA, VIZ Media, LLC (VIZ Media), is one of the most comprehensive and innovative companies in the field of manga (graphic novel) publishing, animation and entertainment licensing of Japanese content. Owned by three of Japan's largest creators and licensors of manga and animation, Shueisha Inc., Shogakukan Inc., and Shogakukan-Shueisha Productions, Co., Ltd., VIZ Media is a leader in the publishing and distribution of Japanese manga for English speaking audiences in North America, the United Kingdom, Ireland, and South Africa and is a global ex-Asia licensor of Japanese manga and animation. The company offers an integrated product line including the popular monthly manga anthology SHONEN JUMP magazine, graphic novels, and DVDs, and develops, markets, licenses, and distributes animated entertainment for audiences and consumers of all ages. Contact VIZ Media at 295 Bay Street, San Francisco, CA 94133; Phone (415) 546-7073; Fax (415) 546-7086; and web site at www.VIZ.com.
Starting Point 1979~1996 © 1996 Nibariki
SHONEN JUMP MAGAZINE
BLEACH © 2001 by Tite Kubo/SHUEISHA Inc.
NARUTO © 1999 by Masashi Kishimoto/SHUEISHA Inc.
ONE PIECE © 1997 by Eiichiro Oda/SHUEISHA Inc.
---