MangaGamer Announces Go Go Nippon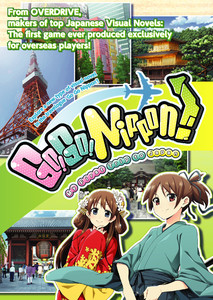 August 30, 2011--
We at MangaGamer are proud to announce Go Go Nippon!
Have you ever thought of playing a Visual Novel, but didn't know what's best to start with? Or didn't want to spend a lot to find out? Have you ever wondered what it would be like to travel to Japan? To spend a week there with two beautiful girls? Then
Go Go Nippon
is the perfect game for you!
Developed by OVERDRIVE, makers of Kira Kira, Edelweiss, Deardrops, and more, Go Go Nippon marks the very first visual novel created by a Japanese studio specifically for the western audience!
These sisters will show you around some of the best sights in town in this interactive guidebook! You'll even find out how much the trip costs and what the food's like!
This is the game for everyone interested in Japan!
Story
Our protagonist is a fan of Japanese anime and games. He makes friends with some Japanese people on the internet, and decides to stay with them for a week.
Thrilled by the prospect of a week's sightseeing in Japan, he touches down in the airport, only to discover that his new friends -- "Makoto" and "Akira" -- are actually a pair of attractive young sisters!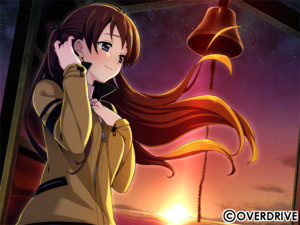 After their introductions, the protagonist arrives at their house to learn that no one else is there.
"Um... where are your parents?"
"Our parents were called out of town for two weeks on urgent business."
(In other words, the only ones in the house will be Makoto, Akira, and I?)
(How is that going to work!?)
The local culture has some surprises in store on your first night there, but you'll soon head out on the town! Enjoy the date-like atmosphere as Makoto and Akira take you on a tour of famous sites. You'll marvel at the beauty and history of Japanese culture, fill up on local delicacies, and even share some thrilling moments with the girls!
The week you spend in Japan will certainly be memorable!
Title: Go Go Nippon
Manufacturer: OVERDRIVE
Genre: Adventure, Simulation, Education
Price: €9.95
OS: Windows XP(32bit), Windows Vista(32bit), Windows 7(32bit)
Text Language: English
Age Rating: Teen
Release Date: September 30th, 2011
ABOUT MANGAGAMER.COM
MangaGamer.com is the world's first legal download site for English translated Visual Novels. Since its launch in July 2008, it has offered services where fans can download and enjoy popular Visual Novels such as CIRCUS's Da Capo and OVERDRIVE's Kira Kira right from their home. Don't forget to visit us on
Facebook
and
Twitter
!
---