Digital Manga Brings the Vampire Hunter D Store to iPad and Android Tablets!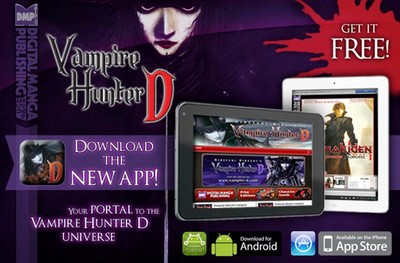 Gardena, CA (October 25, 2011)
- Digital Manga Inc., one of the manga industry's most unique and creative publishers, is proud to announce the all new Vampire Hunter D Store App! With the advent success of the
Vampire Hunter D novel
series, co-published in English by
Digital Manga Publishing
and DH Press, then the launch of the
Vampire Hunter D manga
series, DMP continues to push the envelope, bringing what every manga, sci-fi and horror fan has been waiting for --- Vampire Hunter D mobilized. Now take your favorite vampire manga with you on your iPad or Android device.
The year is 12,090 A.D., and what little is left of humanity has finally crawled out from the ashes of war and destruction. From the darkness of fallout, mutants and a race of vampires known as the Nobility have spawned. They rule the weak with no remorse. Once bitten by a Nobility, one is cursed to become a member of the undead. Villagers cower in fear, hoping and praying for a savior to rid them of their undying nightmare. All they have to battle this danger is a different kind danger – a Vampire Hunter.
Enter D – a lone, mysterious vampire hunter, sought out by the desperate Doris Lang. Bitten by the vampire lord Count Lee, Doris is destined to her unholy fate... Can D deliver her from her curse and bring her to salvation, or will she forever be part of the unholy dead?
The Vampire Hunter D Store App carries the first 5 volumes of Hideyuki Kikuchi's manga and novels works with more to follow in the coming weeks. Each volume of the VHD manga is broken into 2 parts, priced at $3.99. Average price for the novels are at $6.99. The VHD store also carries the foreign editions of the manga—so far the Japanese and French editions are available with more to follow. The Japanese editions are the complete volumes, priced at $6.99USD and French editions at $7.99USD. An additional category for the store has been added to also showcase author Hideyuki Kikuchi's other novel works published by Digital Manga Publishing, such as Demon City Shinjuku, priced at $10.99, and the Yashakiden: The Demon Princess series priced from $9.99 to $13.99. Welcome to the world of Hideyuki Kikuchi's collection of works.
"Digital Manga is usually known to piggy-back onto other digital storefronts, but we are now proud to finally release our own portal app for the smart devices, and hope to continue to do more in the future."—VP Production, Fred Lui
The Vampire Hunter D Store App is now available on the Apple App Store and Android Market.
App Store link:

ttp://itunes.apple.com/us/app/vampire-hunter-d-store/id468310588?mt=8
Android Market link:
https://market.android.com/details?id=com.emanga.vampirehunterd&feature
About Digital Manga Publishing
Located in Gardena, CA, Digital Manga Publishing is one of the industry's most unconventional and innovative companies, specializing in building corporate and cultural bridges from Japan to the Western Hemisphere - specifically through the licensing, importation and preparation of anime (Japanese animation), manga (Japanese comic books) and related merchandise for the North American mainstream and subculture markets. In this capacity, DMI serves as a catalyst for the expansion of Japanese pop culture institutions into global arenas. The company's imprint line includes DMP: its mainstream imprint, DMP PLATINUM: its classic manga imprint, JUNE´: its boys love imprint, 801 MEDIA: its adult boys love imprint, DokiDoki: its exclusive co-publishing imprint with Shinshokan Publishing, Project-H: its Seinen Hentai manga imprint powered by 801 Media, DMG: its own digital distribution initiative, and eManga.com: its online storefront for digital content.
For more information about Digital Manga Publishing, visit www.digitalmanga.com as well as:
www.dmpbooks.com
www.vampire-d.com
http:www.emanga.com
www.youtube.com/user/junemanga
www.youtube.com/user/801media
www.youtube.com/user/digitalmanga

Follow us on twitter @digitalmanga
Find us on Facebook: Digital Manga Inc.
---