2D Reigns in the North American Cover and Art Book for Dragon's Crown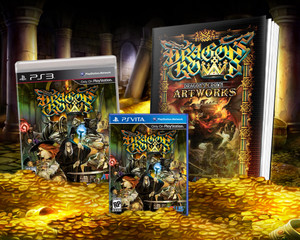 The unveiling of the North American game cover for
Dragon's Crown
puts the vibrant, watercolor-esque art style of renowned game artist and Vanillaware president George Kamitani on full display. Brave adventurers who pre-order the 2D multiplayer hack-and-slash beat 'em up will also receive the
Dragon's Crown
Artworks: a limited edition soft-cover art book.
The Artworks will be 64 pages of full-color illustrations from
Dragon's Crown
. This includes intricate drawings of the characters in the game, lush environment backgrounds, and descriptions from the artist himself. Also included in the art book will be commissioned illustrations of the
Dragon's Crown
universe from three prominent Japanese video game artists: Akira Yasuda (Akiman), Kinu Nishimura, and Gouda Cheese (BENGUS).
Dragon's Crown
will be exclusive to the PlayStation 3 and PlayStation Vita systems for $49.99 and $39.99 respectively and is available for pre-orders now from major retailers. The game is not yet rated. More details about the game will be revealed in the future, with updates on the official
Dragon's Crown
website at:
http://www.atlus.com/dragonscrown/
NOTE: The glam shot image doesn't imply the game will be cross-buy. There are no plans to make this a cross-buy title.
About ATLUS
Index Digital Media Inc.'s ATLUS brand has become known across the industry as a mark of high-quality, deeply immersive, uniquely Japanese video game experiences. With award-winning titles that reach across a variety of genres and platforms, including the Shin Megami Tensei® and Persona® series of role-playing games, the ground-breaking action-adventure/puzzle game Catherine™, and the much-celebrated RPG Demon's Souls™, ATLUS is committed to offering the highest standard in interactive entertainment experiences.
Twitter:
www.twitter.com/AtlusUSA
Facebook:
www.facebook.com/AtlusUSA
ATLUS is a brand of Index Corporation and its privately held subsidiary Index Digital Media, Inc.
For breaking news, special promotions, insider info, and more, visit
http://www.atlus.com/faithful
to join the ranks of the ATLUS Faithful!
---