Gamers!
Episode 8
by Paul Jensen,
How would you rate episode 8 of
Gamers! ?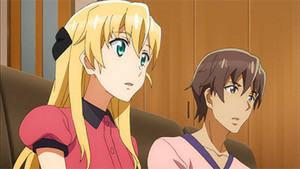 This week's episode starts off looking like nothing more than an inconsequential set of side stories, but it eventually works its way up to some major developments. The first half follows Chiaki's younger sister Konoha, who serves as the student council president at another school. During a secretive trip to the local game store, Konoha overhears Keita sharing some of his thoughts on dating sims. The show's main characters return in the episode's second half, where they end up playing a romance-themed board game at Chiaki's home. While the game does poke at some sore spots for the characters, it also gives Tasuku and Aguri a chance to stabilize their turbulent relationship. Things don't work out quite as well for Chiaki, who discovers a connection between herself and Keita at the worst possible time.
Konoha's story is the weaker of this episode's two halves, due in part to some puzzling narrative decisions. The comparison between her and Karen feels arbitrary; they go to different schools and participate in completely unrelated activities, so it seems unlikely that Konoha would see Karen as a rival. Despite this issue, the side story does have a few things going for it. The show is able to draw an interesting parallel between Konoha's troubles and Keita's praise for an overlooked dating sim, and it's a sweet little moment, even if Gamers has to jump through a lot of hoops to get there.
The main characters return to the spotlight in the second half, where the series manages to get back into its groove. The totally-not-Life board game is neatly set up to poke at the characters' weak spots, and the twisted future it presents is an amusing one. It's hard not to laugh as the characters make their way through imaginary relationship hurdles, and the humorously awkward atmosphere is compounded by the actual romantic drama that exists between them. Tasuku's inner monologue is perhaps overused here, but it has enough good moments to be a worthwhile addition to the scene. For anyone who has actually sat through a game night with one or more feuding couples, the tension in the room should be both familiar and entertaining.
Just when the board game looks set to ride its comedic momentum to the end, the episode makes a quick pivot into more sincere territory. The switch happens in the immediate aftermath of Keita's comment that he's enjoying the opportunity to play the game with everybody. The scene takes on a warmer and fuzzier vibe as the established couples start to talk with one another; Karen chats with Keita about his mobile game, and Tasuku and Aguri manage to defuse the tension that had been building up in their relationship. All seems to be well in the world of Gamers until Chiaki walks back in and realizes that Keita is her longtime online gaming partner. Just like that, the show's existing conflicts are resolved and a new one emerges.
With Aguri and Tasuku back on track and Keita and Karen starting to act like a real couple, the question now becomes how Chiaki will deal with being the odd one out. The fact that Keita remains unaware of their online connection is significant, as this leaves it up to Chiaki to decide when (or if) she should reveal that information to him. For an episode that started with a narrative detour and spent most of its time on game-related comedy, this has brought some pretty significant changes to the state of play within the show's main cast. If previous events are any indication, there's still plenty of time for this story to go horribly and hilariously wrong for everyone involved.
Rating: B
Gamers! is currently streaming on Crunchyroll.
---
discuss this in the forum (102 posts)
|
back to Gamers!
Episode Review homepage / archives