×
remind me tomorrow
remind me next week
never remind me
Subscribe to the ANN Newsletter • Wake up every Sunday to a curated list of ANN's most interesting posts of the week.
read more
Shelf Life
My Love Story
by Paul Jensen, James Beckett,

We've got a ton of new releases to cover this week, so I'm going to use that to cover for my lack of clever or interesting thoughts to put into this intro paragraph. Let's get right into it, shall we? Welcome to Shelf Life.
Jump to this week's review:
My Love Story

On Shelves This Week

Assassination Classroom - Season 2 Part 1 BD+DVD
Funimation - 325 min - Hyb - MSRP $64.98
Currently cheapest at: $42.99 Amazon

Synopsis: Koro Sensei and the students of Class 3-E return for more academic rivalry and assassination attempts.
Extra: We've got a full set of episode reviews written by yours truly for this season. Crunchyroll currently has the first season avaialble, and both seasons are streaming on Funimation and Hulu.
---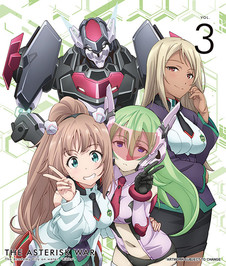 Asterisk War - Volume 3 BD, Limited Edition
Aniplex - 150 min - Hyb - MSRP $74.98|$114.98
Currently cheapest at: $59.98 Right Stuf|$89.98 Right Stuf

Synopsis: As Ayato and Julis advance into the final rounds of the Phoenix Festa, Julis must find a way to make up for Ayato's reduced fighting strength.
Extra: You'll find episode reviews for this series here, and we also have reviews of the first and second limited edition sets. You can stream the show on Crunchyroll, Hulu, and the Aniplex Channel.
---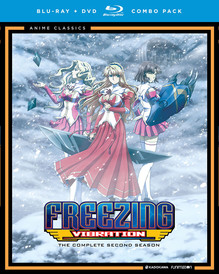 Freezing Vibration - Complete Collection [Anime Classics] BD+DVD
Funimation - 300 min - Hyb - MSRP $39.98
Currently cheapest at: $27.99 Right Stuf

Synopsis: Satellizer and several other powerful Pandoras are sent to a secret base in Alaska, where they must help develop a new generation of "E-Pandoras."
Extra: We have a review of an older box set, and both this and the first season are available streaming on Funimation.
---

Ghost in the Shell: Stand Alone Complex - Complete Collection BD
Anchor Bay - 650 min - Hyb - MSRP $69.99
Currently cheapest at: $46.19 Amazon

Synopsis: Major Motoko Kusanagi and her elite counter-terrorism unit face off against a powerful cyber-criminal known as the Laughing Man.
Extra: You'll find the first of several older DVD reviews here, and we also have an article comparing some of the many Ghost in the Shell iterations. The series is available on Hulu as of this writing, but it's worth noting that all the episodes are marked as "expiring."
---

Ghost in the Shell: Stand Alone Complex 2nd Gig - Complete Collection BD
Anchor Bay - 650 min - Hyb - MSRP $69.99
Currently cheapest at: $46.19 Amazon

Synopsis: The members of Section 9 are called into action to deal with the Individual Eleven, a network of terrorist cells.
Extra: As well-regarded as this sequel season is, we don't actually seem to have any reviews for it. That same Hulu page also has the 2nd Gig episodes, though they're also marked as "expiring."
---

Green Legend Ran - Complete Collection DVD
Sentai - 140 min - Hyb - MSRP $24.98
Currently cheapest at: $14.99 Amazon

Synopsis: After the Earth is turned into an endless desert by alien technology, a young man named Ran sets out to avenge his mother and learn the truth behind the planet's transformation.
Extra: I've got a whole bunch of nothing for y'all when it comes to information on this 1992 OVA. We do at least have some user ratings, which average out at around 6.8 out of 10.
---

Noragami Aragoto - Complete Collection BD+DVD, Limited Edition
Funimation - 325 min - Hyb - MSRP $64.98|$84.98
Currently cheapest at: $42.99 Amazon|$59.49 Right Stuf

Synopsis: Yato takes on powerful gods of war and the underworld as he struggles to overcome his perpetual poverty and help Hiyori resolve her supernatural predicament.
Extra: We have episode reviews for this sequel season, and Gabriella had good things to say about its predecessor in a Shelf Life review a while back. The full series is streaming on Funimation and Hulu, and Crunchyroll also has the first season.
---

Metropolis BD
Sony Pictures - 107 min - Hyb - MSRP $26.99
Currently cheapest at: $26.99 Amazon

Synopsis: In the sprawling city of Metropolis, a powerful politician, his violent adopted son, and the nephew of a detective are drawn together by an advanced new robot.
Extra: We have an old review of this movie here. I get the impression that this release is some kind of "manufacture on demand" deal with Amazon, which would explain why it's not available on some of the other usual retail sites.
---

Ultimate Otaku Teacher - Season 1 Part 2 BD+DVD
Funimation - 300 min - Hyb - MSRP $64.98
Currently cheapest at: $43.79 Amazon

Synopsis: Junichiro Kagami's unorthodox teaching methods are helping to reform his students, but his motivation is about to be tested by an opportunity to work on his old Anywhere Door project.
Extra: I gave the first part of this series fairly low marks a few weeks ago, and we have another review here if you're looking for a second opinion. You can stream the show on Funimation.
---

Unbreakable Machine-Doll - Complete Collection [S.A.V.E.] BD+DVD
Funimation - 300 min - Hyb - MSRP $29.98
Currently cheapest at: $20.69 Amazon

Synopsis: Magical puppeteer Raishin Akabane and his living doll Yaya enroll at Walpurgis Royal Academy, a school for students with supernatural abilities.
Extra: Hey, that's two releases in a row that I've given Perishable ratings in past columns. We've got another review here, and the series is streaming on Funimation.
---

Uta no Prince Sama Revolutions - Complete Collection BD, DVD
Sentai - 325 min - Sub - MSRP $59.98|$49.98
Currently cheapest at: $36.29 Barnes and Noble|$32.49 Right Stuf

Synopsis: Haruka and the members of ST☆RISH compete against the veteran idols of QUARTET NIGHT for the chance to perform at a major festival.
Extra: Those group names were in all capital letters in the product description, so you'd better believe I'm putting them in all caps in my synopsis. Episode reviews for this season are here, and you can stream it on Crunchyroll, Hulu, and The Anime Network.
---

Yosuga no Sora - Complete Collection BD
Media Blasters - 309 min - Sub - MSRP $35.99
Currently cheapest at: $25.29 Amazon

Synopsis: Haruka and his twin sister Sora move back to their rural hometown, where Haruka meets many of his old childhood acquaintances.
Extra: The first episode of this series got some positive and negative reactions in the Preview guide, and our user ratings give it around a 6.6 out of 10. It's available streaming on Crunchyroll.
---
Shelf Life Reviews
James takes a look at the fan favorite rom-com My Love Story this week, including the show's shiny new English dub.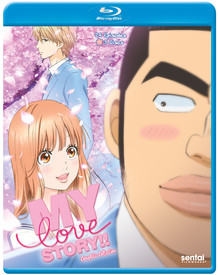 When it comes to romance, I'm a complete sap. My wife will be the first to tell anyone that, when we're watching a movie or a television series or an anime, I'm the first one to break out the tissues when it's time for a love confession, and I'm the first one to yell at any idiot boys that don't know how to respect the ladies in their lives. Grand romantic gestures are my bread and butter, and one of the first things I look for in a series, when appropriate, is whether or not there is a heartwarming romance I can latch on to. So when I was given the opportunity to review My Love Story (aka Ore Monogatari!!), my excitement and enthusiasm surprised absolutely nobody.
The premise is right up my alley, too: Takeo Goda is a hulking gorilla of a teenager, whose boisterous personality and unconventional appearance has left him romantically adrift at sea, while his quiet and handsome best friend Sunakawa has always had the burden of rejecting the romantic advances of nearly every girl in school. When Takeo saves a pretty girl from unwanted advances on train ride home, he initially assumes that her gratefulness (and romantic affections) will go to Sunakawa, as is the norm with any other girl. Rinko Yamato is not like any other girl however, and it soon becomes plain that she's completely smitten with Takeo, who finds himself making unexpected strides in the unfamiliar (and hilarious) world of teenage romance.
I'm going to be upfront here: I loved this show. Everything about it is right up my alley, and it's executed with such charm and good humor that I couldn't help but enjoy almost every minute of it. It isn't a perfect series, but it is absolutely the most well-meaning and all around pleasant series I've seen during my time writing for Shelf Life.
The secret to its success is its characters. This is essentially a slice of story, and while each individual episode has its share of compelling ups and downs, this isn't really a show you watch for the plot. The real joy of My Love Story comes from the interactions between our core trio. These kinds of series hinge on having a likeable cast, and Takeo, Sunakawa, and Rinko have enough charm and chemistry to carry 24 episodes and then some. Sunakawa initially comes across as a bit standoffish, but he eventually reveals depths of personality and emotion that make him the perfect foil for his bulky counterpart. Rinko's excessive niceness sometimes toes the lines of being a bit too saccharine, but she has just enough dimension to her character to remain compelling, both as a love interest and a protagonist in her own right. Takeo, though, is the real heart of the show, balancing a gruff, almost superhuman exterior with a thoughtful and eminently endearing sense of compassion for the people in his life. The cast grows over the course of the series, but the show never loses sight of these three, and just how much their core relationships form the best of what the show has to offer.
If My Love Story has any flaws, it's that it might just be a bit too sincere and dedicated to its themes for some. Most episodes are variations on very familiar tropes and situations: Takeo and Rinko go out on their first date; Takeo and his buddies go out with Rinko and her girlfriends, and then shenanigans ensue; Rinko and Sunakawa support Takeo when he joins a martial arts club; et cetera, et cetera. While Takeo's unconventional looks and Sunakawa's deadpan observations make for some gentle ribbing on the genre's clichés, the show never delves into outright parody. It takes the feelings these characters have for one another incredibly seriously, and everyone gets to have many, many heartfelt conversations on the feelings they have swirling in their hearts. Since I myself am a glutton for this particular brand of anime cheese, I was on board from day one, but after two dozen episodes it was hard to deny that the series got just a little repetitive. Depending on how you feel about ridiculously earnest declarations of love between two high schoolers, this could be either a minor annoyance or a complete deal breaker. If you do decide to jump in, I would recommend tackling the series at a slow and steady pace, a couple of episodes at a time. Binging all of My Love Story in just a couple of sittings might very well be an overload of cutesy romance for even the hardiest of enthusiasts.
Sentai Filmworks has put out a pretty good Blu-Ray set for My Love Story, which contains all 24 episodes of the series, excellently mastered both in audio and video, though it lacks any other substantial features, save for an English dub. I actually elected to watch My Love Story in English, and I have to say that the studio did an impressive job with this one. Austin Tindle does an excellent job playing up Sunakawa's understated nature, imbuing him with the perfect mix of bemusement and brotherly affection. Tia Ballard is also good as Rinko, who is arguably the toughest character to play, given how fine a line she walks between being endearing and grating; Ballard walks the line well, and really sells the chemistry she shares with her lumbering boyfriend. Thankfully, Andrew Love nails his role as Takeo, balancing the intensity of his exterior character with the inner softness that makes Takeo work so well in this particular story. A series this nakedly melodramatic needs a solid cast to make the material work, and both the Japanese and English casts do so with aplomb.
To be honest, the biggest sticking point I have with this release of My Love Story has nothing to do with the series itself. Varying between $65 and almost $100 dollars, this is one of the pricier sets I've covered on this column, and the high cost stings even more when you consider that the release has no additional features to speak of. Still, I'm giving this set a Shelf Worthy, because it's brought me as much joy as anything else I've covered for this column. Much like the boy Rinko Yamato has fallen so madly in love with, My Love Story stands head and shoulders above so many of its peers in the genre, and many will rightly regard it as a modern rom-com classic. If you need a little more cheesy romance in your life, and you've got the cash to spare, then My Love Story absolutely deserves to be a part of your collection.
-James[TOP]
That wraps up the review section for this week. Thanks for reading!

This week's shelves are from Yammi Reckorrd San:
"I've been shown my collection on ANN a few times in the past. I started collecting manga when I was about 16-17. Now I'm 23 years old.
My collection may allow you to think I'm a girl, because I have huge amount of Shoujo manga Inculiding Tanemura Arina works like Phantom Thief Janne and Genteleman Alliance Cross, Nana, Love Com, Yukarism and others (I even finished Hakuoki VN 100%), but despite that, I'm a man. I have more boy-ish staff on my collection like Senran Kagura, Dead or Alive, and Fairy Tail.
My collection also has nice amount of Shonen manga, with my faourites are Samurai Deeper Kyo and Slam Dunk.
On my door, I have pictures of my favourites anime, which for most of them I can't get my hands on. Some of them are the amzaing classical Glass Mask, Rose of Versailles, Captain Harlock and Black Jack. Some other favourites are more over the top action romance anime, like G gundam, and Cross Ange.
I have a few anime in my collection like Samurai 7, Fate Zero, Clannad, and Lupin III. I wish I could get more, but my most favotries are pretty old like Glass Mask and G Gundam as mentioned earlier. As for gaming, I play a lot of Musou games, like Senran Kagura and Sengoku Basara, and a lot of action RPG like Tales of Xillia."
That's definitely quite the variety of genres, which is a good thing as far as I'm concerned. Thanks for sharing!
If you'd like to show off your own collection of anime, manga, and other cool stuff, send me your photos at [email protected]!
---
discuss this in the forum (18 posts)
|