×
remind me tomorrow
remind me next week
never remind me
Subscribe to the ANN Newsletter • Wake up every Sunday to a curated list of ANN's most interesting posts of the week.
read more
The List
7 Crazy Pieces Of Gundam Merchandise
by Lynzee Loveridge,

The anime merchandise machine has churned out some truly outrageous product tie-ins from Sailor Moon tampons to Evangelion fishing tackle. When a series reaches the two decade mark, any kind of collaboration is up for consideration. The Gundam franchise is no exception and while some pricey items are admittedly pretty cool, like that Char Toyota Auris, others are just a big ol' W-T-F.
Gundam at the Racetrack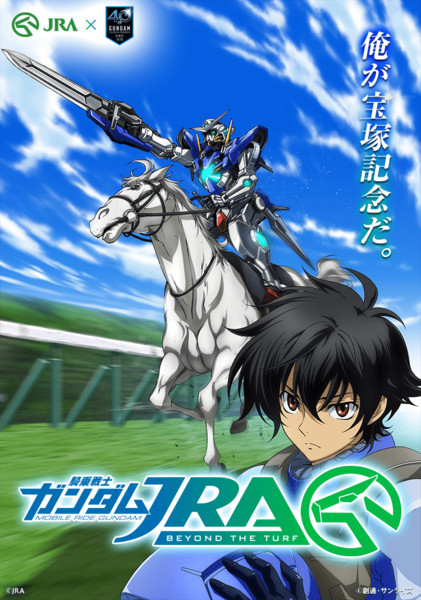 Gundam is a lot of things: giant mobile suits, complicated allegiances, and fantastic battles in space. It's not what comes to mind when I think of "horse racing" a sport that is very much on Earth and played by relatively short guys in bright-colored clothes. The only thing close to that in the Gundam universe might be Fūnsaiki, a Mobile Horse from G-Gundam because of course it's from G-Gundam. Fūnsaiki's jockey is a real horse pilot plus whatever Mobile Suit decides to ride on its back. Can't Mobile Suits just fly though? Best not to think about it too much.
I got a bit carried away there. So why is Gundam teaming up with the JRA? Well, the JRA pairs up with a lot of anime franchises to entice ticket buyers, including Attack on Titan and even Pop Team Epic. So the answer is merely because they can.
Hopped Up on Caffeine

I'm sure staying awake for patrols in space is no joke. That's why real Mobile pilots drink Georgia Emerald Mountain Blend coffee. Georgia Emerald Mountain Blend coffee, with enough bitterness to keep your eyes open and your trigger finger perky. Take a can with you on your next mission to Zahn.
This collaboration was dreamed up to celebrate the coffee brand's 25th anniversary and Gundam's own 45th anniversary. The character cans are pretty standard, but what really stands out is the themed vending machine. The RX-78-2 Gundam machine was set up in Shibuya for about a week and included recorded lines by Char, Amuro, and other characters.
Soft and Cushy Cosplay

I've seen Gundam cosplay that ranges from elaborate to cardboard to very elaborate cardboard. Honestly, the way to win the cosplay race is to opt for both accuracy AND comfort. Do you want to spend all weekend in a clunky box when you could instead dip your feet into some slippers and hide behind an unusually large cushion? Premium Bandai put out this set based on MA-08 Big Zam mobile armor. It's a pair of plush, three-toed slippers and a giant pillow. Strap that thing on, pose for photos, and when you're completely over it, take a big nap in an alcove somewhere. Win, win, win.
Fancy Teacups

There was a pretty nice series of Gundam-themed high-end cultural goods, like an ironworks teapot and replica vase. The Zabi family teacups is another item released during that trend but I can't help but wonder if they were made ironically. The Zabi family are, well, cruel despots but there's nothing immediately insidious about their dishware. Each cup is lovingly "signed" by the character on the inside. I guess this is for anyone who wants to have an evil space tea party. BYOT (bring your own tea).
Chocolate Tofu

Please look at the above picture for a good long while and tell me if you would eat that. The tofu you see there is chocolate flavored and was shaped with the official Dom mold. The mold came in three varieties, all of Dom mobile suit with different weapons. The above image was created as part of a diorama contest. So thumbs up for creativity but I still don't think I'd eat it.
Golfing with Zaku

If Shinji can have official fishing tackle, then the MSN-00100 Hyaku Shin and the MS-06 Zaku II can hit the green for a friendly round of 18 holes. The price point might be a deal breaker if you aren't a superfan. I can't say what a typical caddy bag goes for but these run for 70,200 yen (US$664).
Collectible Pepsi Cans

Seeing these cans gave me big flashbacks to the Star Wars Episode I merchandise craze. I may have known a guy who collected all of those soda cans (I can't remember if he had cans of full, flat soda or if actually drank it) and displayed them on his mantle. Somewhere there is a Pepsi Cola Nex equivalent of Gundam cans. I also had to look up what "Pepsi Nex" is thinking I may be out of the loop as a loyal Coke drinker but it's not available in the U.S., at least not with that name. Pepsi Nex is a 0 calorie version of Pepsi. It's called Pepsi Zero Sugar here after undergoing rebranding from Diet Pepsi Max and Pepsi Max. Soda branding is weird.
---
Lynzee is a managing editor at
Anime News Network
where she exacts a reign of terror and is oddly rewarded for it. (
Twitter
.)
---
discuss this in the forum (10 posts)
|