Hell Girl Win it Before you Can Buy it Contest
October 17, 2007

FUNimation Entertainment and Anime News Network are giving away five (5) copies of the Hell Girl Starter Box. The DVDs will be shipped out on Monday, the day before Hell Girl is released to stores, so winners should receive their DVDs on the very same date that they become available in stores. Admittedly this time we weren't able to get the DVDs to you before release (like we did with Witchblade), but they will be delivered to your home on the release date, for free!
The Prize:
Every Winner will receive a copy of the Hell Girl Starter Set, including volume 1 and an artbox for the entire series.
About Hell Girl
- A supernatural thriller from Aniplex. According to urban myths, a mysterious web site exists, accessible only at midnight. Post the name of someone against whom you hold a grudge and Hell Girl will carry out your revenge and send that person's soul to hell. But vengeance has a price. Those who accept a contract with Hell Girl must be ferried to hell when they die.
Trailer:
Also Available: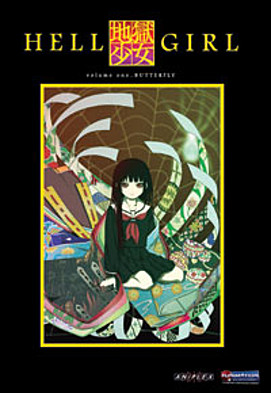 Hell Girl Volume 1
(no box)
The Entry Form:
Winners:
Matthew Temple
Joseph Reynolds
Diana Taylor
Edwin Ramirez
Armando Cepeda

The Fine Print:
Although unlikely to happen, Anime News Network reserves the right to cancel this contest at any time. Only 1 entry per computer / e-mail / mailing address allowed. Contest is open to any person aged 13 years or older, but prizes will only be shipped within the continental United States and Canada (So if you win, but you live in Antarctica, you have to arrange to have it sent to someone living in the appropriate area, and they can send it to you.) Winners' names will be posted on AnimeNewsNetwork.com, their mailing addresses will be provided to the prize sponsor and/or our shipping agent of choice (ie: USPS) and no one else. Winners' addresses and e-mail addresses will be erased once the prizes have been shipped. Non-winners' names, e-mail and mailing addresses will not be given out to any one and will be erased when the winners have been confirmed. Non-winners will not be contacted, spammed or harassed in any way. We reserve the right to retroactively add new rules when and how we see fit.
---
discuss this in the forum (30 posts)
|