Fractale Figurine + BD/DVD Giveaway!
July 19, 2012

The contest is over! Congratulations to our grand prize winner, Evan Bryan! And our four winners, Robert Whittaker, Jason Schafer, George Larrabee, and Mercedes Meades. All winners will be contacted shortly.
Funimation and Anime News Network are giving lucky readers a chance to win the Fractale complete series on Blu-ray and DVD, along with a Nendoroid Petit Phryne figurine! In a distant future, mankind enjoys prosperity and abundance, thanks to an ancient and mysterious technology called "Fractale." One day, teenage boy Clain rescues a girl (Phryne) who's fleeing from pursuers. However, she slips out in the middle of the night, leaving behind only a pendant that activates into an avatar named Nessa. With her, Clain sets off to find the girl and figure out the secret behind Fractale.
One grand prize winner will receive a Nendoroid Petit Phryne figurine (pictured below) as well as the Fractale complete series BD+DVD, while four winners will receive copies of the Fractale complete series BD+DVD. The contest is open to anyone, but prizes will only be shipped to addresses in the US and Canada. The contest will be open until Wednesday, July 25 at 11:59PM EST, and is limited to one entry per person. Winners will be notified shortly thereafter.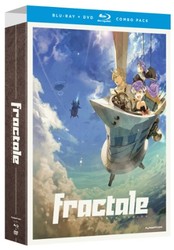 The Fine Print: Although unlikely to happen, Anime News Network reserves the right to cancel this contest at any time. Contest is open to any and all residents of the planet Earth and neighbour parallel dimensions, but prizes will only be shipped within the continental United States and Canada (elsewhere, you have to arrange to have it sent to someone living in the appropriate area, and they can send it to you.) Winners' names will be posted on AnimeNewsNetwork.com, their mailing addresses will be provided to our shipping agent of choice (ie: USPS) and no one else. Winners' addresses and e-mail addresses will be erased once the prizes have been shipped. Non-winners' names, e-mail and mailing addresses will not be given out to any one and will be erased when the winners have been confirmed. Non-winners will not be contacted, spammed or harassed in any way. We reserve the right to retroactively add new rules when and how we see fit.
---
discuss this in the forum (28 posts)
|
this article has been modified since it was originally posted; see change history