Interest

Final Fantasy VII Concert To Be Held in Japan This June

posted on by Chris Nishijima
Concert to kick off the start of the Game Symphony Japan series.
---
June 21 will mark the beginning of the Game Symphony Japan series of concerts with a one night event. This performance which will be reproducing orchestral versions of some of the greatest hits from Square Enix's Final Fantasy VII, will be held in the Akasaka district's Suntory Hall.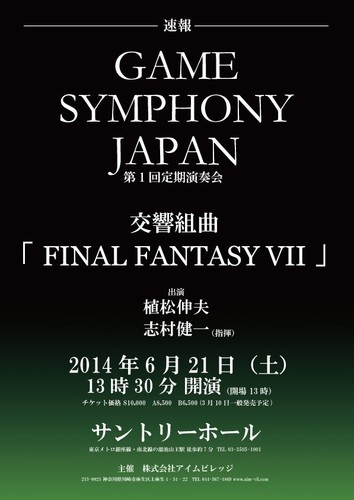 Nobuo Uematsu, famed composer of the Final Fantasy series will be serving as the executive music director for the concert's tour and will be attending the concert that night. The orchestra will be conducted by Kenichi Shimura, who is also credited with having conducted the Puella Magi Madoka Magica concert last April.

The producers of the concert hope to be able to recreate the story of the entire game before a captive audience. The tickets are already sold out, but prices ranged from 6,500 yen to 10,000 yen based off of seat location and were sold online via Ticket Pia and Lawson Tickets. You can find out more about the concert by visiting the official website.

[Via: Siliconera.]
---