Interest

Japan's Hot Spring Idols Get Animated Promotional Video

posted on by Lynzee Loveridge
Last year Enbound, Inc. introduced the world to Onsen Musume (Hot Spring Girls), a multimedia idol project with support from Tokyo Otaku Mode and Daiichi Kanshin.
The story goes that Sukunahiko, the god of hot springs, summoned nine Hot Spring Girls to fight the decline of interest in hot springs by forming an idol group "SPRiNGS". The girls serve as guardian deities and are voiced by seiyū and designed individually by different character designers. Animation studio Doga Kobo brought the idols together for their first animated music video featuring their first song "Mirai Imagination!" (Future Imagination!).
The project is ultimately aiming to become a game and television anime, but is focusing on musical projects for now.
The project is running a crowdfund to raise five million yen by April 28 in hopes of introducing more people to Onsen Musume. Rewards include character bromides, a five track mini-album, keychains, T-shirts, and other merchandise.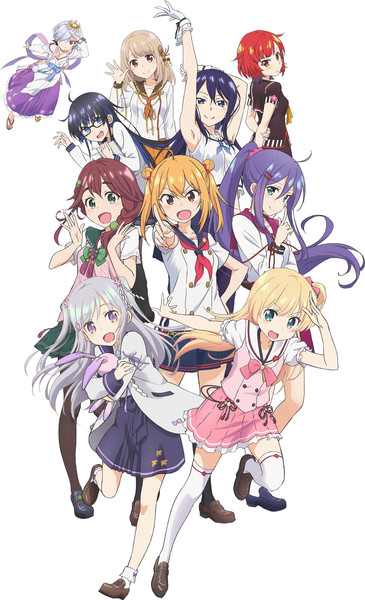 SPRiNGS includes:

Yuina Kusatsu (Yūki Takada, design by Dontsugel)
The group's center idol. She's the type that acts quickly and thinks positively. Her tendency not to look before she leaps causes problems for the other group members. She's always fighting against bad test scores due to her poor study habits. She's fearless on stage.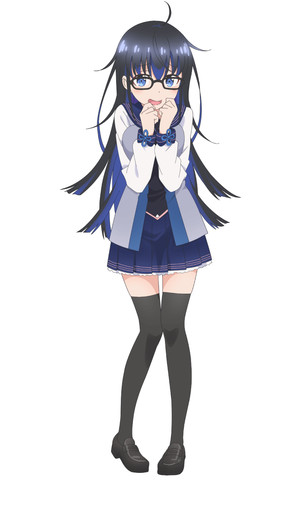 Mitsuki Gero (Yurika Endō, design by Ren Sakuragi)
She isn't confident in herself and would have undoubtedly remained alone if she hadn't met Sukunahiko. When she removes her eyeglasses, her idol persona awakens and she radiates an aura. Her hobbies are looking herself up online, watching anime, and reading manga.

Saya Hakone (Rika Nagae, design by Itiso Kujō)
A "refreshing" girl who likes to exercise and enlivens things around her but on the other hand works as a shrine maiden at the family shrine. She tends to set the group's mood and makes use of Yuina's reckless momentum.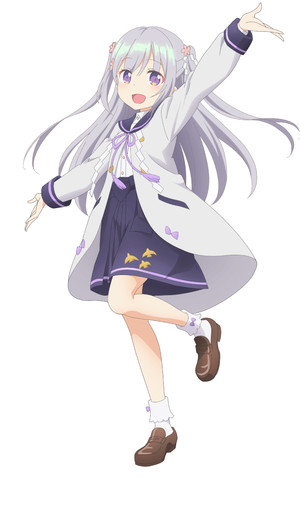 Fūka Arima (Kana Motomi, design by Mika Pikazo)
Despite being a sheltered girl, she's very curious, clumsy and possesses a mysterious energy. Although her entire being is packed with cuteness, she'll do things like go ghosthunting or go exploring to capture a strange animal to make it her pet. She's the group's lovely little sister.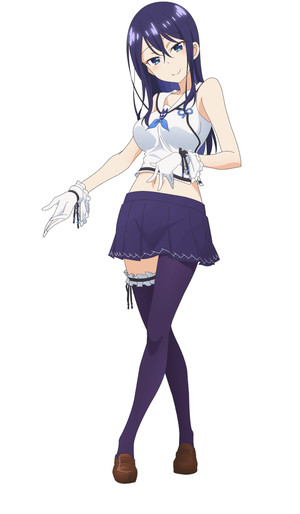 Ayase Noboribetsu (Natsumi Hioka, designed by Tarō Amagai)
An easygoing person who moves along at her own pace, Ayase is the group's outstandingly stylish older sister. She'll gently envelop the other members when they feel like they've failed or are facing setbacks. In that way, she keeps the idol members feeling encouraged.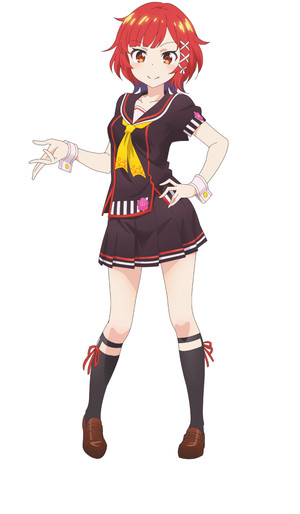 Rinka Arima (Yūki Kuwahara, designed by QP: flapper)
A high-handed lady who doesn't usually try to join a circle of friends. She has distinguished taste and has appeared in fashion magazines as an amateur model. She was the first to notice how attractive Mitsuki is without her glasses.


Nanako Akiu (Karin Takahashi, designed by Tiv)
A bit of a shy country girl, Nanako speaks with a Tohoku dialect if she isn't careful. She's very attentive, carrying various items in a handbag just in case. Her fashion sense is catastrophic, especially her casual wear. However, she stays in good spirits and serves as everyone in the group's "wife."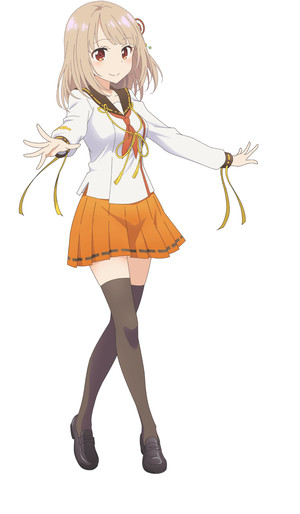 Izumi Dōgo (Minami Shinoda, designed by H2SO4)
An old-fashioned honor student girl, she is somewhat conservative and likes to abide by the rules. She finds problem children like Rinka and her younger sister Fūka baffling. She acts skeptical of trendy and expensive items but actually is very interested. The group leader, she keeps everyone organized.


Yufuin Baden Kanade (Misaki Watada, designed by QP: flapper)
Yufuin was born in the spa town of Baden-Baden, Germany and claims to have raised herself. She looks biracial and is a high spirited girl. She enjoys both listening to and playing music and can play the guitar, piano, and traditional Japanese instruments. She uses strange honorific words and Japanese phrases, using endings that have to be written in katakana. She's responsible for being the group's comedic relief.
The 2015 anime Onsen Yōsei Hakone-chan also features a hot spring deity in the form of a little girl. Ōedo Onsen Monogatari (The Story of Ōedo Hot Springs), a big bathhouse in Tokyo, has often used anime crossovers to attract visitors.
Source: MoCa News
---