News

Nitro+'s Gen Urobuchi Writes Black Lagoon Novel

posted on

2008-05-20

04:49 EDT by Egan Loo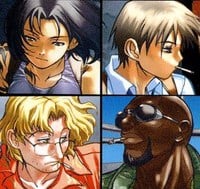 The June issue (released on May 19) of Shogakukan's Sunday GX magazine has announced that Gen Urobuchi, the writer of many of Nitro+ studio's releases, will pen the novel adaptation of Rei Hiroe's Black Lagoon action manga. Hiroe will illustrate the novel, which the Gagaga Bunko imprint will ship on the same day (July 18) that the eighth compiled manga volume will ship in Japan. As one of Nitro+ studio's key writers, Urobuchi developed the plots for the Phantom -Phantom of Inferno- game and the Phantom - The Animation spinoff, wrote the Fate/Zero novels, and is supervising the scripts for the Blassreiter anime.
Viz Media will begin releasing the original manga in North America this August. Geneon Entertainment released part of the Black Lagoon anime on DVD before ceasing its DVD sales last year.
Source: Muhyojo
---
discuss this in the forum (3 posts)
|
bookmark/share with:
back to Daily Briefs
News homepage / archives
RightStuf - Anime, Manga and More
Theatrical anime poster art isn't just unbelievably cool, it's also a part of history. Mike takes us on a tour of his personal collection that doubles as a fascinating exploration of the form.
― Think of that moment when you realized that you weren't some dumb kid anymore; that revelation that you could no longer be truly carefree, but instead had to at least pretend to be a grown-up. I don't think i...
This uneven but often charming journey into first love and hot-blooded justice has finally arrived on blu-ray! Nick Creamer has the details on Imaishi's bite-sized creation.
― Hiroyuki Imaishi's name is almost synonymous with the Studio Trigger brand. After providing dynamic key animation and highlights like FLCL's manga sequences early in his career, he became the flagship director for Gainax's last...
150+ photos of Osaka's biggest anime event
― Spring is in the air in Osaka. The plum blossoms are at their peak in Osaka Castle Park, and the cherry blossoms should start blooming next week. And it's time again for Osaka's biggest anime event: the Nippombashi Street Festa. This year was the 14th festival, held in Den Den Town, Osaka's equivalent of the otaku paradise of Akihabara. For those unfamilia...
Many anime couples don't get even get the chance to confess their feelings, much less tie the knot, but at least these lovebirds managed to take the first step together. These are just seven of the best popped questions.
― Hey guys! I missed you over the last two weeks. I was laid up recovering from a minor medical procedure, but it let me both catch up on this season, last season, and marathon 50-s...
As the first novel in this spinoff series to go beyond the anime adaptation, this is recommended reading for transitioning between the two versions. Theron Martin explores this new content.
― With volume 5, the Sword Oratoria novel series mostly passes beyond the end of its anime adaptation, picking up as Loki Familia is returning to the surface from the climactic events of the anime's final episode;...
Andrew Partridge , founder of Europe's Anime Limited and the Scotland Loves Anime film festival drops by to share his history and insight into the world of European anime distribution.
― ANNCast Episode 324 - Scotland Loves Anime Andrew Partridge, founder of Europe's Anime Limited and the Scotland Loves Anime film festival drops by to share his history and insight into the world of European anime di...
Violet Evergarden and The Ancient Magus' Bride make their bids for the top of the heap as the race grows closer in the final weeks of the Winter season. Find out where your favorites rank!
― Our team of reviewers are following 28 anime series of the Winter 2018 season and readers are rating each episode as the reviews go up. So let's have a look at what ANN readers consider the best (and worst) of t...
How long does it actually take for a production team to create a single episode of anime, end-to-end?
― Mark asked: I have a pretty simple question. About how long prior to a show airing does animation production start? So not pre-production meetings or voice acting or anything like that, but the artists sitting down and drawing the whole dang thing. How much of a lead time do these artists need to ...
The magical world of this hit fantasy anime takes inspiration from a rich history of fairytales and folklore. Rebecca Silverman explores the stories behind the many wonders of Elias and Chise's adventures.
― Kore Yamazaki is a dream of a mangaka. That's not just because she writes moving and fascinating stories that combine a slow, deliberate pace with likable and nuanced characters, but also because...
This sequel to the first action game in the franchise from KOEI-TECMO and Omega Force makes significant improvements on its predecessor, but is it worth a purchase? Heidi Kemps has the answers.
― Omega Force's record with anime and manga adaptations is a bit spotty. We've had disappointments like Fist of the North Star: Ken's Rage and Berserk and the Band of the Hawk, but we've also had some real win...
After months of buildup, this fantastical drama has finally delivered a breathtaking climax to Chise's long and difficult journey. We discuss our reactions to this game-changing turn of events.
― After building us up for this moment over twenty-one emotional episodes, The Ancient Magus' Bride has finally delivered a breathtaking climax to Chise's long and difficult journey. This week in anime, Nick a...
It's a bursting pipe of Nintendo news, plus Dark Souls Amiibo, Broly arrives in Dragon Ball Fighterz, plus an interview with Viz Media's Eric Eberhardt on their indie games publishing initiative!
― Sorry folks, no time for a witty intro sequence, we got a whole bucketful of news to get to from Nintendo Direct! Oh BABY. Let's start with the big stuff first: SMASH BROS IS HEADED TO SWITCH Well, what do...
After almost four years adrift on the tides, the boys of eternal summer are back with new adventures in advance of Free! season three this summer. Jacob Chapman dives into this theatrical continuation.
― You know that sequence of heartwarming, lightly comedic images that flashed by during the credits of Free! Eternal Summer's final episode? We saw Makoto and Haruka studying together in college, Nagis...