News

1/1-Scale Gundam Robot Statue: We Do Weddings, Too

posted on by Egan Loo
Famed wedding coordinators to host ceremonies before 18-meter-tall statue
---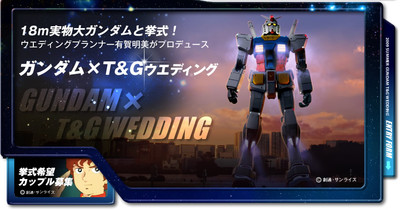 Not-So-Daily 1/1-Scale Gundam Statue Link of the Day: The Sunrise anime studio has announced on Wednesday that it will host wedding ceremonies at the feet of the 1/1-scale, 18-meter-tall statue of the main robot from its Gundam franchise. The Green Tokyo Gundam Project is collaborating with the Take and Give Needs (T&G) wedding coordinators and famed wedding planner Akemi Ariga. Not only have T&G and Ariga planned the weddings of many prominent performers, artists, and professional sports athletes, but they also planned the "wedding" of the Kenshiro and Yuria characters from the Fist of the North Star fighting action manga last September.
T&G is accepting applications between July 11 and 26 from couples who want to hold weddings in front of the 59-foot-tall statue, and the staffers are willing to host anniversary ceremonies as well. All ceremonies must be held before August 31, when the statue is scheduled to close at Shiokaze Park on Tokyo's artificial Odaiba island. The first Gundam anime series is celebrating its 30th anniversary this year.
Thank you to GokuMew2 for the news tip.
Image © Sotsu, Sunrise
Update: The auction for a photo opportunity at the statue's shoulder in a construction lift has ended at 2,601,000 yen (US$27,800).
---