News

Little Lulu Artist Irving Tripp Passes Away

posted on by Crystalyn Hodgkins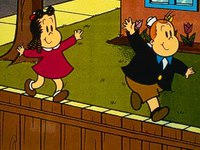 Irving Tripp, one of the artists of the Little Lulu comics which were later adapted into an anime, died on November 27 of complications due to cancer. He was 88.
Nippon Animation produced the 26-episode Little Lulu to Chicchai Nakama (Little Lulu and her Little Friends) anime series from 1976 to 1977. Director Fumio Kurokawa worked on the project with voice actresses Eiko Masuyama and Minori Matsushima.
In 1941, Tripp began his work an artist for Dell Comics, but his work was interrupted when he joined the U.S. Army in World War II and served in the Philippines. In 1949, he started work with John Stanley on Little Lulu. He would pencil, ink, and sometimes letter the comics. Tripp also illustrated comic book versions of Tom and Jerry, Bugs Bunny, and a number of Disney adaptations, including Dumbo. Tripp worked until his retirement in the 1980s.
In 2004 Dark Horse Comics obtained the rights to reprint the comics in North America, and have been publishing them since then.
Sources: Publishers Weekly's The Beat blog, The Comics Reporter
---