News

Beez Confirms Anime Legends Reissue of Code Geass R2 and Cowboy Bebop

posted on

2011-11-11

13:11 EST
Both titles due in January.
---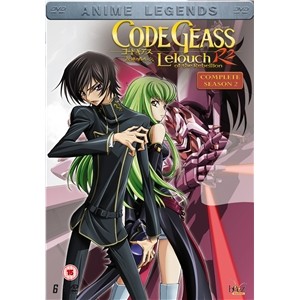 Beez has confirmed on twitter that it will release Anime Legends editions of Code Geass R2 and Cowboy Bebop Remix in January. A subsequent twitter referred followers to the play.com website, which lists Cowboy Bebop Remix as coming out on January 2 and Code Geass R2 coming out on January 30.
Cowboy Bebop Remix is the 2005 special edition of the Cowboy Bebop series, with a remixed and remastered Dolby Digital 5.1 and DTS surround sound and remastered video under the direction/supervision of Shinichiro Watanabe.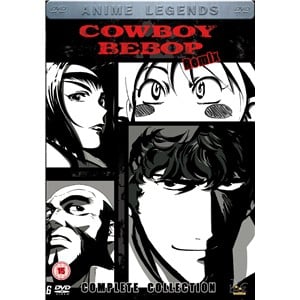 Responding to a twitter query, Beez said the Cowboy Bebop would be in standard plastic packaging, and that the previous collector's edition of the series "won't be reprinted for some time." Beez also added that it was "just reprinting" the Anime Legend edition of the first season of Code Geass.
In June, Beez had said an Anime Legends release of Code Geass R2 was 'likely' at the beginning of 2012.
---
discuss this in the forum (6 posts)
|
bookmark/share with:
RightStuf - Anime, Manga and More
Now that it's no longer behind a double-paywall, there's no better time to catch up on this post-apocalyptic adventure while settling in for the winter. We share our favorite things about this surprisingly impactful series.
― Now that Girls' Last Tour is no longer behind a double-paywall, there's no better time to catch up on all the post-apocalyptic adventure while settling in for the winter. This w...
The Winter 2018 anime season has begun, and we're reviewing ALL of this season's new anime as they air!
Available Now: Winter 2018 Short Anime - Beatless - Touken Ranbu Hanamaru 2 - DARLING in the FRANXX - HAKYU HOSHIN ENGI - Hakata Tonkotsu Ramens - Hakumei and Mikochi - and MUCH more!
― Welcome to Anime News Network's Winter 2018 Preview Guide! Here's how it goes: our team of critics write up thei...
This teen melodrama takes a surprisingly mature look at clinical depression and how it affects the lives of loved ones. Theron Martin explores the series' highs and lows.
― How do you save a person who's wallowing in depression but won't let anyone know about it, especially without making it obvious that you're trying to do so? That question lies at the heart of this adaptation of Ichigo Takano's man...
It's anime night, and Luna has a surprise guest and some classic anime to watch - but Vice gets stuck on that last point.
―
Did you win?
― Anime News Network is giving away a copy of Cowboy Bebop" The Complete Series on DVD from Funimation as well as Sword Art Online volumes 1 and 2 on DVD from Aniplex of America. The Sword Art Online give-away is open to all readers. Just enter your details below. The Cowboy Bebop give-away is open to all ANN subscribers, including Basic Subscription. Just enter your details below and yo...
Find out if you won tickets to see this week's screenings of Studio Ghibli's Mary and the Witch's Flower.
― To kick-off the one-night premiere event of Mary and The Witch's Flower, GKIDS and Fathom Events are giving away FREE tickets and cool merchandise! Based on the 1971 young adult novel The Little Broomstick, Mary and The Witch's Flower is an all-ages action fantasy adventure that hearkens back t...
The results are in and we have your Daily Streaming Reviews schedule for Winter 2018!
― This season's poll results have been tallied and we've put together the schedule for the Winter 2018 Daily Streaming Reviews! We may add coverage of more winter anime based on future reader interest, so let us know what you'd like to see as the season progresses! (Please note that The Seven Deadly Sins and Fate/Ex...
Anime took a long time to gain popularity and pop cultural awareness in America, much longer than it took in other countries - why is that? Justin considers the angles.
― Edgar asked: I grew up in South America back in the 80s. Back then kids' anime was nothing short of mainstream in our country. We had several hours of anime in TV each day (such as the World Masterpiece Theater franchise) and some ...
Gabriella takes to the court with this first season of the hit sports anime, and Paul breaks down all this week's new Blu-ray and DVD releases!
― I replaced my nine-year-old laptop recently, and I'm still in that magical honeymoon period with the new one. Everything about it is shiny and new, and I haven't yet felt the need to swear profusely at it or beg it to keep working for just one more day. I ...
The first original theatrical film in the Nanoha franchise reaches for the stars, but steps out on the wrong foot. Kim Morrissy has the details on this movie straight from Japan.
― Before I dive into this review, I should give a bit of context about this movie and where it fits into the Nanoha timeline. Magical Girl Lyrical Nanoha Reflection is the third Nanoha film, but it's the first to feature an ...
As both the least episodic and the most intense of Kitaro's adventures so far, this piece of manga history leaves a strong impression. Rebecca Silverman has the details.
― Most of us are familiar with the Japanese monsters known as tanuki, and to a lesser degree their real-life animal counterpart, as the friendly raccoon dogs who shapeshift and play tricks, or maybe as the statues with giant testicle...
It's time for our sort-of-annual mega reader survey. The survey helps us improve ANN, understand our readers, and sell the right advertising.
If you were hooked by Devilman Crybaby and find yourself wanting more, the show's director Masaaki Yuasa has a heap of fascinating work available to watch at your fingertips! Here's just a handful of his unique creations.
― Unless you've been living under a rock for the last week, you've probably seen something of Masaaki Yuasa's Devilman crybaby on Netflix, whether you marathoned it on day one or h...
This highly technical and thoroughly detailed first volume is far less light and action-packed than its anime adaptation might suggest. Theron Martin examines how this novel expands on Tanya's story.
― Saga of Tanya the Evil started off as a webnovel on the Japanese site Arcadia before being acquired and published by Enterbrain. A 12-episode anime adaptation aired one year ago, and a follow-up movie ...