News

Bushiroad to Launch Magazine Starting in September

posted on by Marlene First
Cardfight!! Vanguard, Neppu Kairiku Bushi Road among the manga titles
---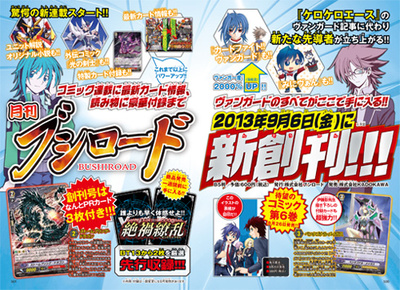 Card company Bushiroad
announced
on Wednesday that it will be releasing a new magazine featuring manga and other content based on its trading card franchises. The Monthly Bushiroad magazine will feature monthly serializations of the Cardfight!! Vanguard manga as well as the Cardfight!! Vanguard spinoff series Mini Van, Cardfight!! Vanguard Gaiden: Hikari no Kenshi (Swordsman of Light), Fire Leon, Neppu Kairiku Bushi Road Side: Suou, Bound Monsters, Makeruna!! Aku no Gundan, and Card Game Shiyoko.
In addition to manga, the first issue of the magazine will run features on its main franchises such as the Cardfight!! Vanguard trading card game, Bound Monsters illustrations, Milky Holmes photographs and behind-the-scenes content, special gifts to readers to commemorate the launch of the magazine, and more.
The magazine will also come with three Cardfight!! Vanguard promotional cards, including one Storm Bring Dragon and the early release of 2 BT 13 cards. It will also include exclusive Bushimo serial codes for Bound Monsters and Hero Slash Battle nationwide. Lastly, it will include a reversible Milky Holmes Sisters poster with art by Natsuki Tanihara.
Monthly Bushiroad is set to go on sale on September 6 for 600 yen (about US$6).
Bushiroad is known in the United States for its trading card franchises such as Cardfight!! Vanguard and Weiss Schwarz. In June, the company
announced
the continuation of its long-running anime series Cardfight!! Vanguard Link Joker Hen, which is currently streaming on Crunchyroll. The company also announced its
plans
to expand on their Cardfight!! Vanguard products as well as introduce new details on its future Card Buddyfight game.
The company
confirmed
at its "Bushiroad Dai Senryaku Happyōkai 2013 (Summer)" event on Tuesday that the project Neppu Kairiku Bushi Lord will be restarted as the television anime Neppu Kairiku Bushi Road. The anime will air this fall as a collaboration between Bushiroad, video distributor Bandai Visual, software company Nitroplus, and anime studio Kinema Citrus.
Source: Bushiroad
---