News

London Anime All-Nighter on Saturday

posted on by Andrew Osmond
Includes Patema Inverted, Blood-C The Last Dark, first Gurren Lagann movie, episodes of Kill la Kill, Space Dandy.
---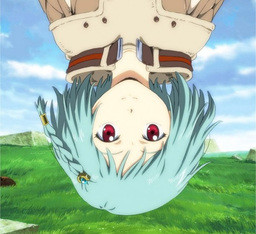 Tickets are still available for the Sci-Fi_London 'Anime All-Nighter' at London's Stratford Picture House (map and directions). The All-Nighter will begin at 11 p.m. on Saturday 26 April, and tickets (£25) can be booked here.
The following anime will be screened.
- Blood-C The Last Dark
- Space Dandy parts 1 to 5
- Kill La Kill parts 1 to 5
- Gurren Lagann 'Movie 1.' (The first Gurren Lagann feature is Gurren Lagann the Movie –Childhood's End-, a retelling of the first 15 episodes of the series with some new scenes.)
- Patema Inverted (pictured)
There will be a goody bag, free coffee and some 'edibles.'
---
RightStuf - Anime, Manga and More