News

Muromi-san Seaside Comedy Manga Ends

posted on by Sarah Nelkin
Nashima's 2009 manga about young fisherman who catches energetic mermaid inspired anime last year
---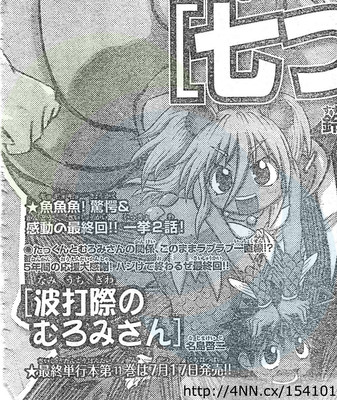 This year's 25th issue of Kodansha's Weekly Shōnen Magazine is announcing on Wednesday that Keiji Nashima's Namiuchigiwa no Muromi-san (Muromi of the Seaside) comedy manga will end in the next issue, which will be released in Japan on May 28. The issue will feature two final chapters. The eleventh and final compiled volume will ship in Japan on July 17.
The comedy story centers around Muromi, a mermaid who happens to speak with a Hakata accent. She is suddenly caught by Takurō Mukōjima, a boy in his high school's fishing club. Muromi falls head over heels for the boy, and she introduces him to the strange inhabitants of her world, including Leviathan, a yeti, a harpy, and a kappa.

Nashima launched the manga in the magazine in 2009, and a television anime adaptation of the manga starring Yukari Tamura, Takahiro Mizushima, and Ai Nonaka aired last year. Crunchyroll streamed the anime outside of Japan as it aired.
---