News

Anime Sols to Stream Tezuka's Dororo & Wonder 3, Tatsunoko's Toshi Gordian

posted on by Lynzee Loveridge
Streaming launch dates for classic series not yet announced
---

Anime Sols co-founder Sam Pinansky announced on Friday on ANNCast that the service will stream Osamu Tezuka's Dororo and Wonder Three anime series, as well as Tatsunoko Production's Toshi Gordian robot anime. Pinansky did not say when these series will launch on the website.
Dororo is a 26-episode black-and-white anime series produced in 1969. Tezuka Productions describes the story:
The setting is the middle of the Muromachi Period, during the 1470s after the Wars of Onin and Bunmei. The story begins in the Noto Peninsula of the Hokuriku District. The main character (Hyakkimaru), who lacks as much as 48 body parts, obtains a fake body and eliminates 48 monsters that were made from his body to retrieve his missing body parts.
The story is based on Tezuka's original 1967 Dororo manga series. Vertical released the manga in a collected volume in 2012. A live-action film adaptation starring Kou Shibasaki and Satoshi Tsumabuki premiered in Japan in 2007.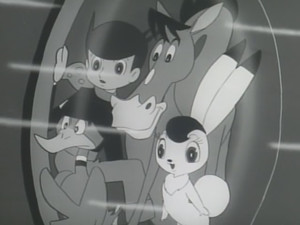 Wonder Three (The Amazing Three) was the first original television anime created by Tezuka's Mushi Production studio and the first Japanese made-for-television animated program to use a specific animation illustrator for each specific character. The black-and-white series ran for 52 episodes from 1965-1966 and was later broadcast in the United States in 1967.
Tezuka Productions describes the story:
The three spacemen who are transformed into a rabbit, a horse, and a duck --- Bokko, Bukko and Nokko --- watch over the activities of a boy named Hoshi Shinichi and his elder brother Hoshi Koichi, who is a member of a group of secret agents that the Phoenix involves in the protection of the earth. The three come to the earth to decide whether to ruin or protect the planet.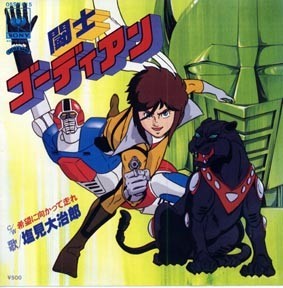 Shigeru Yanagawa (Magical Angel Creamy Mami, Ranma ½, Sailor Moon scripts) directed the 75-episode Toshi Gordian sci-fi series in Japan in 1979. The story follows orphan Daigo Otaki on an Earth devoid of water. Daigo, with his robot panther companion, join the defense force of Victor City where a giant robot, Gordian, fights off the city's invaders.
Anime Sols will open pledges for the first The File of Young Kindaichi Returns DVD set containing episodes 1-14 on July 13.
Thanks to Daniel Zelter for the news tip.
---