×
remind me tomorrow
remind me next week
never remind me
Subscribe to the ANN Newsletter • Wake up every Sunday to a curated list of ANN's most interesting posts of the week.
read more
News

Shin Godzilla Stays at #1 in 2nd Weekend, Earns 2.1 Billion Yen Total

posted on by Rafael Antonio Pineda
---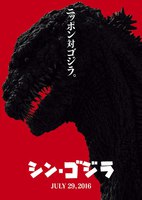 The Shin Godzilla film has earned a total of 2.1 billion yen (about US$20.51 million) as of its second weekend, topping the Japanese box office for the second week in a row. The film is projected to earn upwards of 4 billion yen (about US$39 million). The film has surpassed the 1.26 billion yen (about US$12.27 million) earnings of Godzilla: Final Wars, the last TOHO Godzilla film before this one.
The film opened in Japan on July 29, and Funimation plans to release the film in theaters in late 2016.

One Piece Film Gold movie stayed at #3 in its third weekend. As of Sunday, the film has earned 3 billion yen (about US$29.29 million) after 16 days in the theaters. Including this film, the franchise's 13 films have earned a total of 30 billion yen (US$292 million) since 2000. One Piece Film Gold is currently the third-highest earning film in the franchise, with the 2009 One Piece: Strong World at second with 4.8 billion yen (about US$46.87 million), and the 2012 One Piece Film Z at 6.87 billion yen (about US$64.64 million). Toei is projecting that One Piece Film Gold will earn more than 6 billion yen (about US$56.46 million). While One Piece Film Z screened during a three-week winter break when it opened in 2012, One Piece Film Gold is screening during the four-week summer break and also has 3D, 4DX, and MX4D screenings.

The Gekijōban Kamen Rider Ghost: 100 no Eyecon to Ghost Unmei no Shunkan (Kamen Rider Ghost The Movie: 100 Eyecons and the Moment of Ghost's Destiny) and Gekijōban Dōbutsu Sentai Zuohger Doki-doki Circus Panic! (Animal Sentai Zuohger the Movie: Heart-throbbing Circus Panic!) films both opened on August 6 on 304 screens. The films sold 190,000 tickets, and earned 275,660,000 yen (about US$2.69 million), ranking #4 in the Japanese box office. The films are tracking 129.2% higher than last year's Gekijōban Kamen Rider Drive: Surprise Future and Shuriken Sentai Nin'ninger The Movie: Kyōryū Tono-sama Appare Ninpōchō! films, and is projected to earn more than 1.5 billion yen (about US$14.65 million).

TOHO's 3D CG animated film Rudolph to Ippaiattena opened on August 6 on 346 screens, selling 170,000 tickets and earning 211,040,000 yen (about US$2.06 million) to rank #5 in its opening weekend.

The live-action film of Reiko Shimizu's Himitsu - The Top Secret psychological science-fiction manga opened on August 6 on 305 screens, ranking #6 in the box office.

The Pokémon the Movie XY & Z: Volcanion to Karakuri no Magearna film went from #5 to #7 in its fourth weekend.
The Soreike! Anpanman Omocha no Hoshi no Nanda to Runda anime film fell of the top 10 ranking in its sixth weekend.
Sources: Eiga.com, Movie Walker, The Mainichi Shimbun's Mantan Web
---