×
remind me tomorrow
remind me next week
never remind me
Subscribe to the ANN Newsletter • Wake up every Sunday to a curated list of ANN's most interesting posts of the week.
read more
News

London Film Festival Screens Lu Over The Wall and Live-Action Blade of the Immortal

posted on by Andrew Osmond
Screenings in October, plus live appearance by director
Takashi Miike
---
The lineup for the 2017 London Film Festival includes two anime and manga-related films: Masaaki Yuasa's Lu over the wall and Takashi Miike's Blade of the Immortal. Tickets will become available to BFI Members on Thursday 7 September at 10 a.m. and available to the public on Thursday 14 September from 10 a.m.

Masaaki Yuasa's new film Yoake Tsugeru Lu no Uta (Lu over the wall) will be screened on Saturday October 14 at 12.45 p.m. (BFI Southbank, NFT2) and Sunday October 15 at 6.10 p.m. (Prince Charles Cinema).
Yoake Tsugeru Lu no Uta is Yuasa's first anime film with an original story. The protagonist Kai moves with his father from Tokyo to the declining fishing town of Hinashi to live with his grandfather following his parents' divorce. Kai is unable to give words to his complex feelings about his parents, so he passes his middle school life gloomily. His one joy is uploading his musical compositions to the internet.
One day his classmates Kunio and Yūho invite him to join their band, and when he reluctantly accompanies them to practice on Mermaid Island, the three of them meet a mermaid named Lu. Through her cheerful singing and dancing, Kai is slowly able to open up about his feelings. However, calamity strikes and Kai must shout from the bottom of his heart in order to save the town.
Kanon Tani (your name.) and Shōta Shimoda are starring in the film as Lu and Kai, respectively. Shinichi Shinohara plays Lu's father and the comic duo Chidori play fishermen. Other cast members include Akira Emoto as a grandfather, Sōma Saitō as Kunio, and Minako Kotobuki as Yūho.
Yuasa directed the film at his Science SARU studio, and collaborated with Reiko Yoshida (Non Non Biyori, Tamako Market) on the script. Yōko Nemu (Gozen 3-ji no Muhōchitai) provided the original character designs, and Nobutake Ito (Kaiba, Ping Pong) adapted the designs for for animation and served as animation director.
The London Film Festival will also screen Takashi Miike's live-action version film of Hiroaki Samura's Blade of the Immortal "neo period drama" manga. It will be screened on Sunday October 8 at 8.15 p.m. and Monday October 9 at 11 a.m. Both screenings will be at the Enbankment Garden Cinema.
In addition to the screenings, there will also be a "Screen Talk" by Takashim Miike on Monday October 9 at 6.15 p.m. at the Curzon Soho Cinema.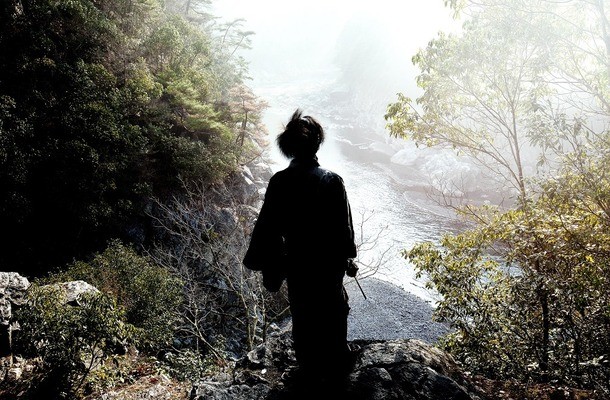 The manga follows Manji's journey of revenge as the yōjinbō (bodyguard) of Rin, a young woman who swears vengeance against a group of sword fighters who murdered her parents.
The film's lead actors include Takuya Kimura (seen above) and Hana Sugisaki (seen right). Kimura (Howl's Moving Castle, Redline, live-action Space Battleship Yamato) plays the lead character Manji, a rōnin warrior cursed with an immortal body. Sugisaki (When Marnie Was There, live-action Humanoid Monster Bem, Tsukuroi Tatsu Hito) plays heroine Rin Asano.
Prolific filmmaker Takashi Miike (Ichi the Killer, Phoenix Wright: Ace Attorney, Yatterman, As the Gods Will, Crows) is directing the film. Filming took place in Kyoto in extremely cold weather, and the climax of Manji and Rin versus 300 enemies took about 15 days to shoot. The film opened in Japan on April 29.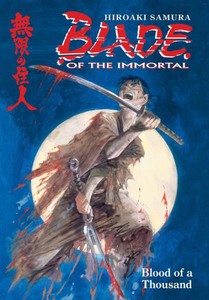 Samura launched the Blade of the Immortal manga in Kodansha's Monthly Afternoon magazine in December of 1993, and he completed the series in 2012. The manga's 30 volumes have 5 million copies in print, and the series has been published in 22 countries and territories. The manga earned an Excellence Prize in the manga category of the 1st Japan Media Arts Festival Awards in 1997, and it won the Eisner Award for Best U.S. Edition of Foreign Material in 2000. The manga is getting a reprint in Japan with new covers.
---