Big Man Japan Opens in LA and NY Next Friday, May 15th
West Los Angeles, CA: Nuart Theatre
New York, NY: Cinema Village
The film will expand throughout May and June.
For additional playdates, please visit:
http://www.magpictures.com/.
"One of the most thoughtful and funny superhero films for adults.
It hits just the right balance of dry humor and big dick jokes.
Big Man Japan is ultra-human and really funny."
– Simon Abrams, NY Press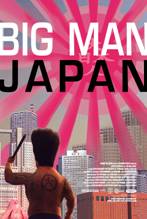 To watch the trailer:
http://sixshooterfilmseries.com/bigmanjapan/
A middle-aged slacker living in a rundown, graffiti-ridden slum, Daisato's job involves being shocked by bolts of electricity that transform him into a stocky, stick-wielding giant several stories high who is entrusted with defending Japan from a host of bizarre monsters. But while his predecessors were national heroes, he is a pariah among the citizens he protects, who bitterly complain about the noise and destruction of property he causes. And Daisato has his own problems –an agent insistent on branding him with sponsor advertisements, an Alzheimer-afflicted grandfather who transforms into a giant in dirty underwear, and a family who is embarrassed by his often cowardly exploits. A wickedly deadpan spin on the giant Japanese superhero, BIG MAN JAPAN is an outrageous portrait of a pathetic but truly unique hero.
BIG MAN JAPAN is the final release of Magnet Releasing's SIX SHOOTER FILM SERIES - six films from the vanguard of quality worldwide genre cinema. With each film hailing from a different country, the series aims to bring fans of horror, sci-fi, alternative comedy and Asian cinema a mix of the most intelligent, genre-bending titles available from the around the globe.
---