Free Girugamesh "NOW" Tour Poster from JapanFiles and Hot Topic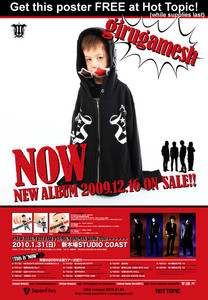 January 6, 2010 – JapanFiles and Hot Topic are giving away free replicas of girugamesh's 2010 tour poster with the purchase of the band's new CD "NOW." The USA release contains the complete 28-page Japanese booklet with lyrics, photos, and liner notes from the band.
The 11" x 15" full-color poster lists all of girugamesh's Japan tour dates in support of "NOW," plus a photo of the band and jacket covers from all 3 editions of the new album.
In 2009, Hot Topic sold over 4,000 combined units of girugamesh's two prior USA releases - "MUSIC" and "Girugamesh." Hot Topic also carries USA-release CDs from JapanFiles artists LM.C and Hangry & Angry.
Offer available while supplies last. Posters not available in all stores. See your local Hot Topic store for poster availability. Also available online at HotTopic.com.
Download girugamesh's discography at the JapanFiles Digital Music Store.
http://www.japanfiles.com/girugamesh
ABOUT JAPANFILES:
Supporting Japanese artists since 2004, JapanFiles specializes in digital sales and media promotion for indie and major Japanese music artists. Music downloads at the JapanFiles Digital Music Store are DRM-free and only 99 cents each.
JapanFiles has sponsored Japanese artist appearances at Sakura-Con, Anime Boston, A-Kon, FanimeCon, Anime Mid-Atlantic, Pacific Media Expo, Anime Vegas, Animex (Mexico), SXSW, Slim's (San Francisco), and Knitting Factory (New York City).
JapanFiles has produced 18 USA CD releases for Japanese artists, including Morning Musume, girugamesh, LM.C, Hangry & Angry, ketchup mania, Swinging Popsicle, LiN CLOVER, Budo Grape, BESPA KUMAMERO, and three volumes of the "Fresh Cuts from Japan" compilation series.
JapanFiles Digital Music Store: http://www.japanfiles.com
MySpace: http://www.myspace.com/japanfiles
LiveJournal: http://japanfiles.livejournal.com
Twitter: http://www.twitter.com/japanfiles
JapanFiles is a division of Japanese education website YesJapan.com.
http://www.yesjapan.com
---