Hemenway's New Single 'Escape' Now Available, Playing Japan Expo 2012 With Naoki Urasawa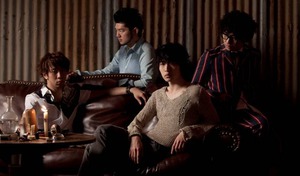 4-piece rock band Hemenway's new single Escape (new opening theme for TV anime series Eureka Seven AO is now available via iTunes and Amazon
The band also just announced their appearance at JAPAN EXPO 2012 (Paris, France), the largest Japanese popular culture convention in Europe, for a special performance collaboration with celebrated manga artist Naoki Urasawa (Monster, 20th Century Boys, Billy Bat)
Hemenway is also featured in the upcoming L'Arc-en-Ciel Tribute Album entitled L'Arc-en-Ciel Tribute
"Escape"
Opening theme song for Eureka Seven AO
NOW ON SALE!
01 Escape
02 Shifting
03 Kokoniinai Kimihe
04 Escape (Lightning Guitar Ver.)
Click
01 Escape 02 Shifting 03 Kokoniinai Kimihe 04 Escape (Lightning Guitar Ver.) Click
HERE
for iTunes Link
Click
HERE
for Amazon Link
Hemenway: The four members first met while attending the Berklee College of Music in Boston, Massachusetts.
After their graduation in 2008, the two Korean-Americans, Isaac and Charm formed a songwriting team as they went back to their homes in LA. Growing up with great influences from Japanese music and culture, Isaac and Charm were determined to pursue their music careers in Japan. Finally, in summer of 2010, the two set their foot in the land of their dreams. As classmates Toshi and Ogaching reunite in Japan and start a band, "Hemenway" begins to pave their way in the music industry. On November 2, 2011, Hemenway made their major debut with single "Listen" from Ki/oon Records. In January 2012, single "By My Side" (ending theme to NARUTO Shippuden) was released worldwide.
The name "Hemenway" comes from a street name in Boston, where the four members lived close by and had unforgettable memories.
With their love for the Japanese culture and their ability to freely manipulate three languages (Japanese, English, and Korean), "Hemenway" will continue to pursue and create a whole new wave of music.
Official Website:
www.hemenway.jp
---