Otakon Welcomes Voice Actress Christine Marie Cabanos
Baltimore, MD (June 20, 2012) – Voice actress Christine Marie Cabanos to appear at Otakon 2012.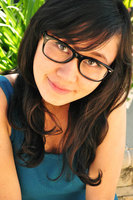 When it comes to anime and video games, Christine is a fan at heart. Her passion for the culture led her to pursue a voice-acting career in the industry. After several years of training and practice, her breakout role came at last, as Azusa Nakano of K-On!. Although a newcomer to the industry, Christine has since earned several leading roles including Haruka in Oblivion Island, Filia in the 2D Fighter, Skullgirls, the titular character of Squid Girl in Squid Girl, and most recently Madoka Kaname from Puella Magi Madoka Magica. Otakon 2012 will be held July 27 – 29 at the Baltimore Convention Center in Baltimore, Maryland.
ABOUT OTAKON AND OTAKORP, INC.: Now entering its nineteenth year, Otakon is an annual celebration of Japanese and East Asian popular culture, and also one of the largest gatherings of fans in the United States. Otakon celebrates popular culture as a gateway to deeper understanding of Asian culture, and has grown along with the enthusiasm for anime, manga, video games, and music from the Far East. Since 1999, Otakon has been held in Baltimore, Maryland; currently, Otakon is one of Baltimore's few large, city-wide events, drawing over 31,000 people for three days each year (for a paid attendance of over 85,000 turnstile attendees). Otakon is a membership based convention sponsored by Otakorp, Inc., a Pennsylvania-based, 501(c)3 educational non-profit whose mission is to promote the appreciation of Asian culture, primarily through its media and entertainment. Otakorp, Inc. is directed by an all-volunteer, unpaid staff – we are run by fans, for fans.
For more information about Otakorp, Inc., see www.otakon.com/otakorp/index.asp For more information and the latest news on Otakon 2012, see www.otakon.com/
---