Viz Media Announces the North American DVD and Blu-Ray Release of Berserk: The Golden Age Arc II – The Battle for Doldrey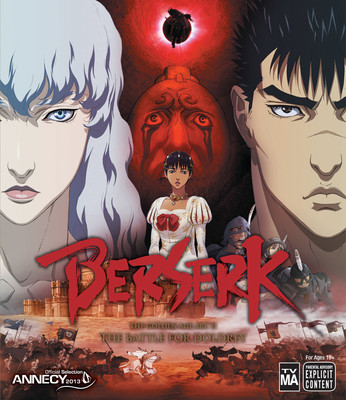 Lone Mercenary Guts Rethinks His Future As The Band Of The Hawk Faces An Army Of 30,000 In The Vicious And Kinetic Second Feature Film Of The BERSERK GOLDEN AGE ARC TRILOGY
San Francisco, CA, August 15, 2013 –
VIZ Media, LLC (VIZ Media), the largest distributor and licensor of anime and manga in North America, beckons anime fans to join the battle-hardened mercenary, Guts, for a new action-packed anime feature film epic as it announces the debut of BERSERK: THE GOLDEN AGE ARC II- THE BATTLE FOR DOLDREY on DVD and Blu-ray. The new release, which is available now, is rated 'M' for Mature Audiences and carries a DVD MSRP of $19.98 U.S. / $24.98 CAN and a Blu-ray MSRP of $24.98 U.S. / $27.50 CAN.
Bonus features include a production art gallery, theatrical trailers, an "Aria" Live Concert conducted by BERSERK score composer Susumu Hirasawa, and an interview with BERSERK voice actors Aki Toyosaki and Minako Kotobuki.
"A friend should never rely on another's dream…he must have a reason for living that goes beyond me… For me to call a man 'my friend,' he must be my equal in every aspect." Three years after joining the Band of the Hawk, Guts is shocked to hear Griffith's words. He believed that his mission was to pursue Griffith's dream together with him through all the fierce battles and struggles. In order to become an equal to Griffith, Guts decides to leave the Band of the Hawk. Around the same time, the Hundred Years War between the Midland Kingdom and the Empire of Chuder enters its final stage. Midland's elite force, the White Tigers, attempts to take the impenetrable Fortress of Doldrey but is confronted and annihilated by the Holy Purple Rhino Knights led by Chuder's strongest general, Boscogn. Seeing this as a perfect opportunity for his Band of the Hawk to advance, Griffith proposes to the king of Midland to send only his Hawks into the battle to capture the infamous fortress. Guts decides to make this battle his last with Griffith and leave the Band of the Hawk.
"The Band of the Hawk faces an army 30,000 strong in the exciting second chapter of the BERSERK: THE GOLDEN AGE ARC trilogy and a bloody battle to capture the impenetrable Fortress of Doldrey from the Empire of Chuder is about to begin," says Charlene Ingram, Senior Marketing Manager, Animation. "The on-screen action is vicious and kinetic, and anime fans aren't going to want to miss even a second of the stunning clash of arms and armour in this in this sweeping epic."
The BERSERK manga series, by Kentarou Miura, debuted in Japan in 1989 and quickly drew a devoted following, going on to sell more than 30 million copies worldwide. The series, still ongoing in Japan, has been published in North America and the UK, as well as in France, Germany, Italy, Spain, Russia, and Latin America. The BERSERK manga has also inspired a popular anime television series and has spawned a variety of related video games, collectable figures and toys, and music soundtracks, as well as the current BERSERK: THE GOLDEN AGE ARC film trilogy.
For more information on the BERSERK: THE GOLDEN AGE ARC film trilogy, please visit the official Facebook page at:
www.facebook.com/BerserkFilm
.
About VIZ Media, LLC
Headquartered in San Francisco, California, VIZ Media distributes, markets and licenses the best anime and manga titles direct from Japan. Owned by three of Japan's largest manga and animation companies, Shueisha Inc., Shogakukan Inc., and Shogakukan-Shueisha Productions, Co., Ltd., VIZ Media has the most extensive library of anime and manga for English speaking audiences in North America, the United Kingdom, Ireland and South Africa. With its popular digital manga anthology WEEKLY SHONEN JUMP and blockbuster properties like NARUTO, BLEACH and INUYASHA, VIZ Media offers cutting-edge action, romance and family friendly properties for anime, manga, science fiction and fantasy fans of all ages. VIZ Media properties are available as graphic novels, DVDs, animated television series, feature films, downloadable and streaming video and a variety of consumer products. Learn more about VIZ Media, anime and manga at
www.VIZ.com
.
BERSERK: THE GOLDEN AGE ARC © KENTAROU MIURA (STUDIO GAGA) HAKUSENSHA/BERSERK FILM PARTNERS
---