×
remind me tomorrow
remind me next week
never remind me
Subscribe to the ANN Newsletter • Wake up every Sunday to a curated list of ANN's most interesting posts of the week.
read more
RIGHT TURN ONLY!!
Neon Genesis Resurrection
by Carlo Santos,


Be vewwy quiet. I'm hunting Pokemons.
---
BUSO RENKIN


Vol. 5
(by Nobuhiro Watsuki, Viz Media, $7.99)
FROM THE BACK COVER:
"High school student Kazuki Muto had no clue what he was in for when he rescued damsel in distress Tokiko from a monster known as a 'homunculus.' Disguised as humans—who actually eat humans—homunculi are malevolent creatures that affix themselves to people's brains, and once fully grown, the only thing that can stop them is a weapon called Buso Renkin!
Upon arriving at the hidden headquarters of the League of Extraordinary Elects (L.X.E.), the Alchemist Warriors learn of the League's plot to attack the high school. Kazuki and Tokiko immediately head over there, only to discover that the school has been surrounded by Dr. Butterfly's newly created humanoid homunculus soldiers. To the Alchemist Warriors' surprise and dismay, they find that not only are they facing Dr. Butterfly's minions, but the students of the school as well!"
EVIDENCE FOR:
If it's battle you want, it's battle you'll get! That's the theme of this latest Buso Renkin volume, where Kazuki and Tokiko go whack-a-mole on Dr. Butterfly and engage in nonstop action. Seriously, it's pure battle from start to finish, and it seems almost superhuman how Watsuki is able to sustain the energy from chapter to chapter. His trick? Going all-out with new enemies and new weapons—every time the fight seems to be winding down, someone reveals their newfound power, or someone switches sides, or any other creative maneuver as long as it keeps the battle going. Don't blink, either, or you might miss the one-on-one between Captain Bravo and Moonface, a dizzying confrontation between the best of the best that doesn't get nearly the number of pages that it deserves. Watsuki's creative flair for character designs and weapons really comes out in this volume (although his butterfly fetish is still kind of odd), and Kazuki's makeover in the final chapter ends things on a tantalizing cliffhanger.
EVIDENCE AGAINST:
I'm sorry, what was the story again? Because there doesn't appear to be any, seeing as this is basically the League of Extreme Dudes Who Fight All the Time. With continuous battle and no chance for a break, it completely unbalances the pacing in the series. How can one appreciate the energy and verve of Kazuki's attacks if everything is always at that maximum energy level? Visually, the action is also a mess; it may look striking at first glance, but that's because there's smoke and explosions everywhere and nary a place to rest the eye. Perhaps this incessant hot-bloodedness is covering up for the absence of plot, as everyone is just endlessly fighting and powering up to become stronger than the other guy. The only major "events" are gimmicky moments where so-and-so appears to be dead, except he's really not, and he comes back with more power than ever before. Where are those idiot pundits who say that manga is appealing because dead characters stay dead and storylines come to an end? These alchemists are getting resurrected faster than Superman ever did!
FINAL VERDICT:
Sometimes, a
Shonen Jump
adventure is exactly that: pure adventure. But when it sacrifices everything else for the sake of cheap thrills, it deserves no better than a
C
.
---
LOVERS IN THE NIGHT

(by Fumi Yoshinaga, Blu, $9.99)
FROM THE BACK COVER:
"Hired as a servant by an aristocrat family, Claude works hard to care for the family that took him in. But when the master of the house and his wife eventually pass away, Claude must keep spoiled son Antoine in line and teach him to be a proper gentleman. As the two become closer, a forbidden love develops between them..."
EVIDENCE FOR:
If there's one place for a great setting, it's revolutionary France: fancy outfits, class struggle, and a high-tension environment just right for a steamy master-servant relationship. And with that relationship at the center of this story, characters become key: Antoine's bratty attitude and Claude's cool demeanor play wonderfully off each other, providing a tangible, believable contrast. It's not like these are hot men who just showed up to do it with each other—they're real guys, caught up in an emotional tug-of-war. Even in the explicit scenes, there's an unusual beauty about their actions, as if carnal and illicit desires could be the path to a higher state of mind (and judging by the looks on Antoine's face, it might be true). The other key to making this story work is in the art—Yoshinaga brings a simple yet talented style to the table, accomplishing most of her visual nuance through linework alone. Hey, who needs tones and shading when you're this good with a nib pen? Delicate curves, attractive characters, and subtleties of emotion are all expressed with just a handful of lines, and yet they can say more in a single panel than most others can do on an entire page.
EVIDENCE AGAINST:
Well, the characters definitely showed up, but did someone forget to assign them a story? This volume comes off as a series of loosely connected episodes with no real driving force to move it along (aside from, obviously, Antoine and Claude's conflicted love for each other). It even sidesteps the French Revolution! How do you miss the French Revolution as a plot point? Alas, the historical event becomes just an excuse to move the two lovers from city to countryside, and perhaps running away from reality is all they can do. After all, the story introduces a few side characters in the beginning and throughout other chapters, but they fade away just as quickly, making it seem like Claude and Antoine are the only human beings in all of France. I know
yaoi
is all about improbable romantic fantasies, but these guys live in an even more detached bubble than the average protagonist. The other disappointment is the lack of backgrounds—apart from some props and architectural touches, there's not a lot to say this is in 18th-century France. It's a shame, because the setting could have promised a lot more visual flair, but never capitalizes on it.
FINAL VERDICT:
This one deserves credit for its attractive period setting and focus on characters, but the disconnected, lightweight story nudges it down to a
B-
.
---
NEON GENESIS EVANGELION


Vol. 10
(by Yoshiyuki Sadamoto, Viz Media, $9.99)
FROM THE BACK COVER:
"After a profoundly disturbing vision leads Rei to sacrifice herself in combat against the penultimate Angel, Armisael, Kaworu takes the opportunity to try to get closer to his own target. But Shinji's anger and confusion at Kaworu's advances develop into even darker feelings when events rapidly force him to come to grips with the secret behind the origin of Rei—a secret kept by the cold, brilliant mind of NERV's soul-sold genius, Dr. Ritsuko Akagi."
EVIDENCE FOR:
After all these years—after the end of the original anime, after the sputtering stops and starts of the manga series, after that Girlfriend of Steel / Angelic Days mess—the "real" version of Evangelion still has the power to blow your mind. With enough twists and detours to make it distinctly different from Anno's vision, this volume fills in gaps and takes the story in directions that only a "true creator"—one of the original staff who worked on the series—could know. Explore Shinji's relationship with Kaworu in ways that only
doujinshi
had once imagined, see into Rei's mind with disturbing new visions, and discover wrinkles in the back story that reveal just how dysfunctional things were between Gendo, Ritsuko, and Shinji's mother. Yes, dramatic revelations abound, and Sadamoto pulls it off magnificently with perfectly planned layouts and page turns. Not only that—he's the only person that should ever be trusted with creating an Eva manga. As the character designer, he draws everyone correctly, he knows the imagery of the series inside and out, and his linework can wring emotion out of a scene in ways the anime never did. The man draws slowly, but it's so worth it.
EVIDENCE AGAINST:
Even so, working slowly might be Sadamoto's greatest weakness. With a year and a half since the American release of Vol. 9, it's hard to keep tabs on the story, and anyone who doesn't have an indelible memory will have to read back a little to brush up. And after all this time, the characters still feel cold and impenetrable, with their flawed personalities and desperate actions. Ritsuko comes to terms with her past in this volume, but it's hard to warm up to the scientist—heck, it's hard to warm up to anyone in the series. Even Rei finally shows her vulnerabilities, but it feels like Sadamoto is fudging things just as much as Anno ever did, with hallucinatory visions so far past science OR fiction that they basically abolish logic for the sake of establishing a plot point. Other imperfections include the so-so action scenes, where shocking moments hit their mark but take a confusing ride on the way there. Watch out for the debris, the giant robot parts, and a lot of scratchy linework.
FINAL VERDICT:
The impenetrable characters were always a part of Evangelion's charm, and with major secrets finally being uncovered, this tale of the End Times gets a healthy
A-
.
---
PARASYTE


Vol. 1
(by Hitoshi Iwaaki, Del Rey, $12.95)
FROM THE BACK COVER:
"They arrive in silence and darkness. They descend from the skies. They have a hunger for human flesh. They are everywhere. They are parasites, alien creatures who to survive must invade—and take control of—a human host. Once they have infected their victims, they can assume any deadly form they choose—monsters with giant teeth, winged demons, creatures with blades for hands—but most have chosen to conceal their lethal purpose behind ordinary human faces. So no one knows their secret—except an ordinary high school student. Shin is battling for control of his own body against an alien parasite, but can he find a way to warn humanity of the horrors to come?"
EVIDENCE FOR:
Ain't this a blast from the past! I remember seeing the old Mixx (that's
Tokyopop
to you newbies) editions of Parasyte on the manga shelf of the bookstore, back when it was literally just one shelf, and now it's come back to haunt me because I never got around to reading it the first time. The story is simple enough—Shinichi's right hand gets invaded by alien; insert joke here—but it spins off into some challenging ideas about the puzzling nature of humankind. At first it feels like a gimmicky alien-discovers-Earth setup, but the impartial observations of "Migi" provide fodder for debate on the value of life and death, and humans versus animals. It's not all talk, however, and there are plenty of blistering action scenes when less civilized parasites attack. Never has it been so good to have a "right hand with a mind of its own," transforming into blades and whips that show the bad guy who's boss. Simple rectangular layouts minimize the fuss and put you right in the story, and the early 90's art style is surprisingly fresh, with distinctive character designs and a wonderfully grotesque assortment of parasites. With its emphasis on fantastic biology and how people interact with these creatures, it's like ...
Mushishi
before there was Mushishi.
EVIDENCE AGAINST:
Good ideas don't always mean good execution. Too often, the storytelling gives in to a dry, linear style—"This happens, and then this happens, and then this"—which feels too simple compared to the rich ideas contained within. The plot could definitely stand become more complex and expand beyond Shinichi's world. In fact, even the beginning is lacking in depth—the parasites just show up with no clear motivation; and in the later chapters, they change their attitude in a similarly arbitrary way. Are they trying to be mysterious, or are these just convenient plot devices to keep the story going somewhere? Supporting characters are also handled clumsily, being assigned cardboard traits rather than proper personalities: Mom is too melodramatic, classmate Murano is too superficially cheerful, and humanoid antagonist "A-san" is a brainless, soulless villain lacking any interesting qualities. Perhaps Iwaaki doesn't care too much for humans himself, or he would have brought out a better cast of characters to occupy this dangerous world.
FINAL VERDICT:
The story may be a tad dry, and the characters a little flat, but anything that can be compared to Mushishi is surely worthy of a
B+
.
---
PRINCESS RESURRECTION


Vol. 1
(by Yasunori Mitsunaga, Del Rey, $10.95)
FROM THE BACK COVER:
"Werewolves, demons, monsters, vampires—all these ferocious creatures are afraid of the same thing: the beautiful Princess Hime, an awesome warrior who fights the forces of evil with a chainsaw and a smile. Not only does she look great in a tiara, she has magical powers that allow her to raise the dead. She's a girl on a mission, and with the help of her undead servant and a supercute robot, there's no creature of darkness she can't take down!"
EVIDENCE FOR:
Princesses are the new maids! At least that's what a couple of similarly-titled new releases (Murder; Resurrection) would have you believe, and certainly there's something appealing about an elegantly dressed girl ready to kick ass and take names. This one pulls no punches on the action, with blood and gore galore as Hime takes on all manner of monsters. It's not too graphic, but it's enough to make your jaw drop, as she shows
No Mercy
with her variety of attacks and weapons. A comedy touch also sets this apart from other splatterfests; who'd have thought that electrocuting people with a jacked-up defibrillator could count as a viable battle move? That, and paddling a swan boat to make a quick getaway down a lake. Detailed backgrounds and props give a real sense of place, especially with Hime's elaborate mansion, and the fight scenes move along with great energy throughout. Bow down to the princess, lest she chop your arm off.
EVIDENCE AGAINST:
Despite the nice work on backgrounds and action, the style on the character designs is too simple—it's like Mitsunaga came up with a moderately attractive female lead and just stopped trying. Also in the "not really trying" department: the overabundance of cheap genre gimmicks, which include a quasi-vampiress (Hime herself), a loli android, a maid, and even a furry (the werewolf girl). What, didn't have enough time to squeeze in a childhood friend in a nostalgic sailor uniform? The plotting is also painfully low on the logic meter, with lots of violent acts strung together for no apparent reason. Don't be surprised to be re-reading lots of scenes just to figure out how they got from one point to another—the only thing that matters, apparently, is to keep the body count up. After a while it all gets pretty repetitive, and this brand of violence-porn loses its spark after Hime dismembers someone for about the 15th time. Even blood and gore is no good without rhyme and reason.
FINAL VERDICT:
Blood-and-guts eye candy is a good thing, sometimes, but without a more substantial (and sensible) story to back it up, it's only worth a
C+
.
---

AOI HANA (Sweet Blue Flowers)


Vol. 1
(by Takako Shimura, Ohta Publishing, ¥952)
SUMMARY:
"Fumi and Akira were best friends when they were little, with Akira always looking after the crybaby Fumi, but that all ended when Akira's family moved away. Several years later, Akira's family returned, and she and Fumi happened to bump into each other on their way to school. They became friends again, quickly slipping back into old patterns. Shortly after, Fumi began dating a cool, attractive upperclassman who, coincidentally enough, had ties to Akira's current school, the prestigious Fujigatani Girls' Academy."
EVIDENCE FOR:
If you do not love Aoi Hana, you do not love
yuri
, period. Simple as that. This schoolgirl story is the best of its genre, so subtle and poignant that it makes stuff like
MariMite
and
Strawberry Panic!
look like trashy dime-store romance by comparison. There is a graceful rhythm to just about every aspect of the story: the way the characters are introduced, how their emotions develop over time, and the complications between Fumi and Akira as a love polygon grows between them and their friends. No space-alien gimmicks, no melodrama, no silly French names—just the purity and vulnerability of high-school hearts as girls come to terms with their feelings. Takako Shimura must be some kind of genius, too, to make it all work with her economical art—clean layouts, sparse backgrounds, and everything that needs to be said contained within a single facial expression. The style is simple, yet the characters come alive on their own, with delicate lines and a touching story to guide them. This is the kind of romance that can be appreciated by anyone, regardless of gender or orientation; if you want the last word on heartache and unrequited love, Aoi Hana has it.
EVIDENCE AGAINST:
Too much gracefulness can be a dangerous thing. The tone of the story is so calm that plot points can go by without anyone even noticing, and sometimes you just wish for a major event to spark things off, like those trashy dime-store romances like to do. As the relationships grow, it also becomes harder to keep track of the characters and who's affiliated with each school. The "prestigious" school is the one with the sailor uniforms, the "normal" school has a more Western style, and characters from both schools are going to interact with each other until you get completely lost and have to do a mental rundown of who's attending where. Surprisingly, this is just as important as remembering who likes whom, as inter-school activities are a key point to the relationships in the series. And boy, do those relationships get complex and tangled up fast. So be warned: just because it's a sweet story, doesn't mean it's fluffy brain candy—you'll have to work to remember all the particulars.
---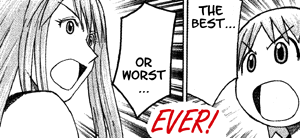 Sometimes, one stumbles upon interesting things, like
Kamichu With Mechas
. And sometimes, one stumbles upon a Pile of Crap With Mechas, which happens to be a good setup for the
Worst Manga I've Ever Read
:
GUNDAM SEED DESTINY

(by Yoshiyuki Tomino, Hajime Yatate and Masatsugu Iwase, Del Rey, $10.95 each)
It came on a balmy spring afternoon, in a package with other review materials from the publisher. "Oh, Gundam Seed Destiny Vol. 3?" I thought. "So they're still putting out that series?" Well, give Del Rey some credit for following through with what they start—but this is a series that should have been axed as soon as it hit Volume 1, Chapter 1. Perhaps it was a joke, or some kind of fanfiction project, but this officially licensed, professional work doesn't even deserve to be in a doujinshi bin. Maybe, if you're a sucker for punishment, you can enjoy the spectacularly bad drawings that look like a 14-year-old's attempt at Gundam fanart. (Sorry, I take that back. I know 14-year-olds who can draw better than that.) And maybe the masochistic among us can try to figure out a story that involves warring interplanetary factions with dumb names, angsty teens that want to make peace, and three principal male characters who are ALL DRAWN THE SAME. My condolences to whoever writes the plot summaries for each volume, because the way the story is presented makes it one of the most nonsensical, illogical plots in all of human history. And human future, for that matter. Let's not even get started on the robots, which also all look the same, and explode the same, and engage in action scenes so ugly and hard to read that you don't even know who died until the pilots talk about it afterward. So let's make a toast! A toast to a phenomenally bad adaptation of an already questionable anime series, and further guaranteeing that, even after years of trying (0079, Wing, SEED, constructing plastic models), I will never get into Gundam.
---
discuss this in the forum (47 posts)
|