RIGHT TURN ONLY!!
Special Eh?
by Carlo Santos,

Oh, are there people still reading this? I thought you'd all be busy playing your brand-new Wiis that nobody was able to find. But for the Wii-less among us (or those who simply aren't playing it because "it has no games"), here's a new stack of manga selections for the holiday break.
---
ASIAN BEAT

(by Mizuki Hakase, Tokyopop, $9.99)
FROM THE BACK COVER:
"Two lost souls, crushed from bad relationships, try to comfort each other in their most dire time of need.
But sometimes love is not enough to mend a broken heart...
And in the title story, a brother is pushed to unimaginable limits to take care of his sister.
Hakase-sensei brings us an unflinching vision of the lonely, the heartbroken, the struggling, and the alienated in these portraits of despair and hope, suffering and dreams—stories that may be shocking yet all too familiar."
EVIDENCE FOR:
The plundering of Mizuki Hakase's entire illustrated output continues! Removed from the supernatural trappings of Hakase's other works, the short stories in
Asian Beat
are surprisingly down-to-earth—emphasis on the "down." Few other artists or writers have so eloquently captured the quiet desperation of modern life. The first story, "The Town Where Snow Falls," takes up the most space in this book, but the long silences and sparse layouts make it the one that flows the smoothest. Like a winter landscape, it's beautiful yet bleak, a portrait of loneliness set in avant-garde style. The remaining stories in the latter half are more talky and conventional, but they have their moments of emotional depth as well, showing the struggles of life through the eyes of three interconnected characters. As always, sharp lines and lanky character designs give the artwork its trademark look, with plenty of silent pauses and close-ups for dramatic effect. And seriously, these stories dish out
lots
of dramatic effect.
EVIDENCE AGAINST:
Ah, the perfect wrist-cutting manga! Even more so than
Life
, perhaps. Yes, that's how depressing it is, and it's probably not the best idea to read it all in one go. The problem with these one-shots is that they're so intent on setting the mood and atmosphere that narrative direction goes right out the window, so we get stuck with a bunch of assorted scenes where people talk about things and have internal monologues and hurt each other and It Is All Very Sad. The later stories also suffer from the curse of too many characters looking alike—namely, all the swishy-haired badass young males slouching around mumbling about how tough life is. Look, it's hard to get a grip on the drama and tension between characters if we can't even tell the characters apart. These disjointed scenes and story threads also feature some maddeningly vague dialogue, as if everyone were in a contest to come up with the lamest pseudo-poetic line possible. Stark emotions? There's plenty here. Logical storytelling? Not so much.
FINAL VERDICT:
It'd be nice to give top marks for stylishness and atmosphere, but the poor plotting and overdone melodrama really shove this down to a
C-
.
---
MY DEAREST DEVIL PRINCESS


Vol. 1
(by Makoto Matsumoto and Maika Netsu, Broccoli, $9.99)
FROM THE BACK COVER:
"A box that grants three wishes is a dream come true. At least that's what Keita thinks, until he opens the box and finds a girl inside. But this girl is no genie—Maki's a devil princess and she's come to take Keita's soul! But she can only take his soul after he makes his third and final wish. As a sheltered demon with little knowledge of how to be evil, Maki must rely on her trusty guidebook to learn the nefarious arts and trick Keita into using up his wishes. Until then, Maki's going to live with Keita until he can't stand living anymore!"
EVIDENCE FOR:
Laughter comes quick and easy in this bubbly school comedy, which jumps into action from the very first page and never lets up. Slapstick humor is always just around the corner as this volume breezes through eight quick chapters, and the characters in Keita's life are surprisingly varied and fun. Maki is amusing enough with her complete disregard for the niceties (and dress code) of the human world, but it's the other side characters who really provide a lot of the humor: pushy track team captain Hayami, scheming school beauty Ryoko, and most dangerous of all, a heavenly angel named Sheeta. The conflict between Maki and Sheeta in the later chapters helps to take the story in a slightly more serious direction, so there's some actual heaven-versus-hell conflict instead of just "ordinary schoolboy is living with a literal demon." Fancy magical effects and spellcasting every now and then also add some visual flash in between the usual hijinks, although of course some people's idea of "visual flash" means Maki revealing her panties every few pages.
EVIDENCE AGAINST:
It's tempting to call this
Ah! My Devil
, except that would be an insult to another series that's far cleverer than this pile of regurgitated fanservice humor. It's true that there are laughs aplenty, but only because they've all been cribbed from elsewhere: a newcomer to the human world who doesn't know how to stay dressed, a villainous rich girl with a grudge against the aforementioned newcomer, a rival from the opposite end of the spiritual world ... yeah, stop me if you spot anything original. Even the plotline, thin as it is, isn't quite sure what to make of itself: Maki spends the early chapters consulting her demon textbook on how to take souls, but by the end of the volume it's more like she's just hanging around Keita for the sake of accompanying him. Come on, people, decide on the premise already! The average artwork doesn't score any points either; it's actually not that bad to look at, but the style and characters lack anything particularly memorable about them.
FINAL VERDICT:
Although it has its fun moments, the complete lack of originality makes this a
C
.
---
S.A


Vol. 1
(by Maki Minami, Viz Media, $8.99)
FROM THE BACK COVER:
"Her whole life, Hikari Hanazono has been consumed with the desire to win against her school rival, Kei Takishima--at anything. He always comes out on top no matter what he does, and Hikari is determined to do whatever it takes to beat this guy...somehow!
At age 6 Hikari lost to Kei in an impromptu wrestling match. Now, at 15, Hikari joins 'Special A,' a group of the top seven students at a private academy, for the opportunity to trounce the guy who made her suffer her first defeat."
EVIDENCE FOR:
Hooray, another series about "special" kids who ride the short bus to school! Actually, no, this ensemble comedy puts an fresh spin on the whole overachieving-super-rich-high-school formula. Rather than surrounding our spunky, likable heroine with numerous hot guys,
S.A
takes the gender-balanced route and throws in a couple of girls to offset the boys. It's a smart idea, as it opens the doors to new characters that wouldn't be possible in a bishounen harem: Akira the tomboy who probably took a wrong turn on the way to
Maria-sama ga Miteru
, and Megumi the cutie who only communicates by writing on a sketchpad (easily the funniest one in the cast). It's not until the arrival of outside characters in Chapters 3 and 4, however, that the Special A kids really start to shine: Kei's clingy cousin drives everyone so mad that they all get a little crazy, and his bratty brother in the next chapter helps to intensify the relationship between the two main leads. There's definitely something going on between Hikari and Kei, but it's also just as fun seeing what goes on with all their friends in the background.
EVIDENCE AGAINST:
Fear is in the air ... the fear of advancing the storyline, that is. In four chapters so far, all we've seen is the same story told four times: here's a highly motivated girl-next-door, struggling to succeed in a prestigious school, and then comes along a group activity where hilarity ensues. Heck, each chapter even wastes 3-4 pages doing the exact same introduction every time. The endings, too, always result in some kind of cheeseball moment between Kei and Hikari with all the romantic subtlety of a sledgehammer. And while the characters are definitely cute, they don't really stand out among the many varieties of shoujo style. The same could be said for the backgrounds, which—despite their extravagance—have a strong feeling of been-there-done-that. The page layouts also get too messy with text and dialogue slapped all over the place, suggesting yet another fear: the fear of letting the pictures tell the story. Look, just because Hikari is there doesn't mean she has to narrate everything.
FINAL VERDICT:
The story and art are extremely ordinary, but something about the character ensemble just
clicks
. Mark it as a
B-
.
---
TOGARI


Vol. 3
(by Yoshinori Natsume, Viz Media, $9.99)
FROM THE BACK COVER:
"Tobei, a ruthless punk from feudal Japan, has been damned to hell for the past 300 years. Given a chance for redemption, he's sent to the present to vanquish sins that have taken the form of malevolent spirits called Toga. Armed with the sin-slaying sword Togari, Tobei is about to go medieval on the 21st century!
Tobei goes out on the prowl seeking more sins to prey upon, and suspicious Detective Sawazaki is hot on his trail to discover what lies behind this young tough's curious activities. Whether he's a delusional monster or an aloof hero, Sawazaki has yet to decide. But time is quickly running out for Tobei with so many sins left for him to slay!"
EVIDENCE FOR:
Togari
's initial selling point might be its brutal, physical battles, but it's a war of words that makes Tobei such an interesting character in this volume. In between blows of his sword, Tobei manages to wax eloquent about his ruthless, self-serving attitude towards life. "People in danger only want to protect themselves, not others!" he says. "If you're jealous of other people's happiness, take it away from them!" Harsh words to be sure, but because of his bargain with Hell, he has to keep on destroying sins, which has this paradoxical side effect of ... well ... saving people. Naturally, destroying sins is something that Tobei does with great visual flair—leaping back and forth to dodge a Toga's attacks, charging with that intense look in his eyes, and delivering finishing blows that slice right across two pages. But there's also some serious brainwork going on in this action-packed brawler: not only are we treated to Tobei's personal philosophy, but side characters like Detective Sawazaki and girl-next-door Itsuki also look at how Tobei's views on life are affecting theirs. He's never going to win any character popularity polls, but he's surely one of the great, compelling anti-heroes out there.
EVIDENCE AGAINST:
Man, Tobei is slacking off. How many sins does he vanquish in this volume—like, two and a half? Here's a tip: stop talking about your hardcore views on life and get back to conquering evil spirits! It's nice that this series is digging into some character and morality issues, but it's also breaking up the action and throwing off the pace. It seems that every time Tobei gets into a hot-blooded fight with a Toga, he suddenly has to stop to deliver a speech, or—even worse—pause for a flashback. It's like a step backward for the series, because the first two volumes did some amazing things with the action flowing from scene to scene, and now it's this mishmash that doesn't know whether to Finish The Fight or have a little Discussion Time. Save it for the daily-life chapters, folks. And speaking of daily life, whatever happened to all the "boy from the past is shocked by the future" humor? Tobei's mishaps in modern Japan always helped to lighten things up, and to see that quietly disappearing from the story is kind of a disappointment.
FINAL VERDICT:
Okay, so maybe the series is having some growing pains as it tries to dig deeper into the characters. But that doesn't stop it from having some great action thrills to the tune of a
B
.
---
YAKITATE!! JAPAN


Vol. 8
(by Takashi Hashiguchi, Viz Media, $9.99)
FROM THE BACK COVER:
"England. France. Germany. What common thread binds these three nations together? Answer: each is famous for producing unique, distinctive, delicious bread. But what of the island nation of Japan, home to rice and delicacies of the sea? Is there not a doughy, gastronomic delight they can claim as their own? The answer was no...until now! Kazuma Azuma, a 16-year-old boy blessed with otherworldly baking powers, has taken it upon himself to create
Ja-pan
, the national bread of the land of the rising sun!
It's only the exhibition for the Monaco Cup—the prestigious bread tournament Kazuma and company are participating in as they study abroad in France—and the competition is already ablaze. Kawachi and Kanmuri collaborate on an outlandish decorative bread scheme to earn their team some extra points, but will their avant-garde approach hurt their chances more than help? Later, a roulette wheel is used to decide which ingredients will be allowed in the first preliminaries. Will Kazuma's trusty Ja-pan 21 see Pantasia through to victory?"
EVIDENCE FOR:
The latest
Yakitate!! Japan
begins with, of all things, a poop joke. And that's how you know we are firmly back in the realm of awesome. The spirit of competition is alive and well as the Monaco Cup kicks off, and the quick pace of the early rounds promises excitement at every turn. Once again, wacky dialogue and over-the-top visuals prevail—who can forget Kawachi's constant litany of "What do you mean!?", or the tournament judge's ridiculous flashbacks, or even Suwabara's announcement of his newfound "Lu-pan" technique. But amidst this comical exaggeration, let's not forget that the theory behind every recipe is solid, and half the fun of this volume is seeing how each competitor "solves" their bread assignment. Meanwhile, the plot behind the plot—a ten-billion-yen wager on the Monaco Cup—also moves ahead at full steam, with even the most overlooked character in the series getting his moment in the spotlight. As always, the artistic details and energy are wonderfully vibrant, with plenty of visual gags in store. The storyline may have been getting a bit draggy over the past couple of volumes, but this one breathes new life right back into the series.
EVIDENCE AGAINST:
Although it's nice to see the series get back on track with a straight-out bread-making competition, readers might be getting tired of seeing the same formula in play again. A culinary challenge is issued, competitors answer the challenge with a bread of their design, and a crazy judge determines the final result. In other words, it's the same thing that happened in the last few bread competitions, except now it's at an international level. If the pace doesn't move quickly enough, we may once again be stuck sitting here, wishing that it were already over ... And speaking of wishing for things to be over, some of the boasting and taunting between competitors takes up way too much space. Here's an idea for streamlining the story arc: cut down on the jawing between the Japanese and French teams. All right, they're rivals, we get it—now get to the point of the plot. This series may have some terrific puns and one-liners, but all the chatter in between kind of dampens that out.
FINAL VERDICT:
This volume takes the series back to what it does best: pure, unadulterated, bread-making action. Great characters, great comedy, and great cooking all add up to an
A-
.
---

PERSONA 3


Vol. 1
(by Shuji Sogabe, concept by Atlus, Media Works, ¥570)
FROM THE BACK COVER:
"April, 2009. Arisato Minato returns to the city he used to live in, this time as a transfer student. The somewhat odd people he encounters at his dormitory will turn out to change his life forever.
The 'Dark Hour,' which comes at twelve midnight ... the gap of time between one day and the next. Humans and Shadows. Those who have power, and those who do not. The borders between them are fluid yet definite, and are everlasting. And atop these lines, this story continues.
Arisato Minato is confronted with monsters. Faced with a life-or-death situation, his instinct leads him to pull the trigger, signaling an ever-definite change in his life."
EVIDENCE FOR:
Even when removed from its video game origins and pared down to just the story and art, it's easy to see why
Persona 3
is a cult favorite among the RPG hardcore. The dark, moody setting is miles away from all other dragon-slaying adventure epics, and the characters carry themselves with a style and panache that's distinctly modern. Arisato's discovery of the Dark Hour sets the mysterious tone right from the start—how else are you supposed to feel when time stops dead in the middle of the night?—and the folks at his new school dorm clearly have something up their sleeves too. It all comes to a head in the spectacular last chapter of the volume, where Shuji Sogabe goes for an all-out attack with the artwork: lavishly drawn monsters rising from the darkness, clouds and moonlight shimmering in the background, and characters jumping into action (Arisato's key moment is literally mind-blowing). But hey, there's a little side humor too! The characters also spend some time at school getting to know each other, joking around—and reminding us that supernatural-slaying adventurers can have fun too.
EVIDENCE AGAINST:
Like every other game-based manga out there, this one does a horrifically sloppy job of explaining the story. Fans may chuckle and enjoy the in-jokes (especially at the school introduction), but for anyone who simply wants to know what
Persona 3
is about, they can look forward to being hopelessly lost. Scenes jump haphazardly from one moment to the next as Sogabe tries to re-enact the game's opening, and I have no idea what he was thinking putting a climactic scene in the Prologue, especially considering that
I haven't even played up to that point yet
. In fact, the storytelling doesn't just flounder at the micro level, but it also falls short when considered as a whole: this is simply another variation on "teenage kid discovers special powers and must fight forces of evil." It just looks cooler, or something. The short length of this volume—just a shade around 150 pages—also makes it hard to get into the story when it leaves off right at a cliffhanger midpoint.
FINAL VERDICT:
An instant must-read for fans of the game, but for newcomers, you'll have to think about how much you
really
like the supernatural genre—and possibly contemplate trying the game first anyway.
---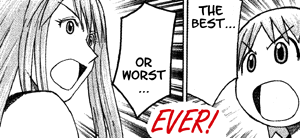 Sometimes, manga just isn't enough. I gotta have something to
read
! Like, with words and stuff! That's when it's time turn to what may be the
Best Light Novel I've Ever Read
:
BOOGIEPOP AND OTHERS (novel)


Vol. 1: Boogiepop Doesn't Laugh
(by Kouhei Kadono, Seven Seas, $9.99)
The world of
Boogiepop
is a many-headed beast, with sequels and spinoffs in every possible medium, but it all begins with this miracle of a novel—a supernatural thriller with a daring narrative twist. It would be enough, in most cases, to present a shady mystery and have our lead character solve it in a methodical, point-to-point manner. But in the original
Boogiepop
, the timeline of the story is already finished by the time you hit page 67. So what to do with the other 154 pages? Tell the rest of the story, of course, from the point of view of the other characters—and that's where the suspense really starts to unfold.
At first there's only the lackadaisical narration of high school everyman Keiji Takeda, talking about his casual friendship with Touka Miyashita—a girl who occasionally becomes possessed by a mysterious spirit called Boogiepop. In order to keep the peace, Boogiepop works under the radar, quietly trying to stop an evil force that's causing students to disappear from the school. As other students get involved, their stories reveal the mystery from different angles: school delinquent Nagi knows a surprising number of secrets; regular nice guy Masami falls into a world of darkness; cheerful and light-hearted Naoko may unwittingly prove to be a key player in this ordeal. And that doesn't even begin to list all the other people, school-age or otherwise, who get caught up in this mystery.
What it adds up to is a remarkable jigsaw puzzle of a story, where smart and observant readers are rewarded, and nothing—absolutely nothing in the world—beats that "Aha!" moment when you reach the ending and finally see how it all fits together. True, it really is just a supernatural high school mystery in the end—but nobody has ever laid one out quite like this. Following these intricate plot threads and unlocking the solution is an experience not to be missed, and frankly, I envy anyone who's reading it for the very first time.
---
discuss this in the forum (8 posts)
|