×
remind me tomorrow
remind me next week
never remind me
Subscribe to the ANN Newsletter • Wake up every Sunday to a curated list of ANN's most interesting posts of the week.
read more
The Gallery
Maximo Lorenzo
by Evan Miller,
For reasons known only to the people who run them, three of the ten largest conventions in North America are happening this weekend. It's insane, but hey, at least there's no shortage of places to have fun and be geeky this weekend. So whether you are reading this from the comfort of home or the floor of a large convention center, rejoice: con season is here.
This also means that we here at ANN are extremely busy, so I'm going to cut this short and let you all bask in the glory of this week's customized banner: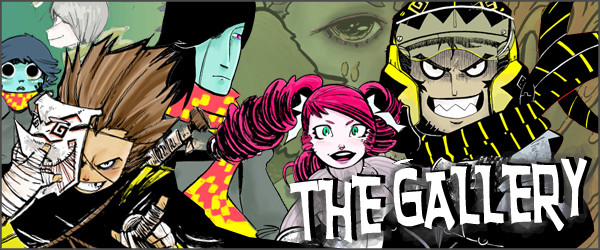 This week, please welcome an artist whose intense, over-the-top action style has helped him get his work published in many different places.
---


Profile

Color: Black
Tools of the trade: G-Pen crowqull nibs, Wacom tablet , brushes, sumi ink, photoshop.
Favorite quote from a manga/anime: "My drill is the one that pieces the heavens! Even if that hole becomes my grave, as long as I break through, I shall be victorious! Who the hell do you think I am?!" -Gurren Lagann
While drawing, I listen to: Every Videogame soundtrack I can grab, Nintendo 8-Bit, Remixes, Orchestra, Whatever makes me strike a powerful mood.
Guilty pleasure: Rough-housing, antics, pranks, rowdiness.
Pet Peeve: People who think absolutes exists, generalizations, or there's only one road to go about things.
Weirdest thing you have in your workspace: A pixelated NES Simon Belmont figurine, given by my editor Alexis Kirsch.

If you could have an American super hero battle to the death with a popular manga character, who would you choose? Hm...Wild Cat (boxer) from the DC universe versus IPPO Makunouchi from Hajime no Ippo (boxer). I've always favored characters with no super powers. DEMPSY ROOOLLL!!!

Wailing Sharkfist
 
Shōjo. Shōnen. Dramatic. Action. Seinen. Romance. There's no shortage of words by which a manga artist can describe their style, and it is common for artists to describe their style with a long combination of words that often rivals the official title of a Fortune 500 CEO in length. Action artist Maximo Lorenzo forgoes such titles when he describes his style, opting for a single word: Sharkfist. As the artist himself describes it, "it's aggressive and shonenesque, and those are two things that I try to keep in my own stories." Beyond Maximo's descriptive explanation of what "sharkfist" represents, the word also speaks to his bizarre, free-form style that not only makes him unique, but represents the off-the-wall characters that populate his work. Regardless of how one interprets Maximo's terminology of choice, it's hard to deny his success. After being selected to appear in the fourth volume of Tokyopop's Rising Stars of Manga, Maximo has worked on publications for Tokyopop and Image Comics, and continues to promote his work online in the hopes of landing his next gig. Over the years, Maximo has continued to develop his storytelling abilities in order to get more emotion out of his readers. However, he's pretty adamant about sticking to his strengths in the process. "I've always had a love for aggressive shōnen action," admits Maximo, "and no matter what I do, I'm always going to have a few guys duking it out."

The Flash fanart
Maximo grew up using art as a stress reliever; a way to cope with boring classes and boredom. He was exposed to anime, albeit unknowingly, when his parents rented the anime based on Osamu Tezuka's Unico manga. "I had never seen anything like that before," says Maximo. In the meantime, he grew up following many of the same super hero comics his friends read. Although he would often draw comics with his friends, Maximo didn't become addicted to American comics like his friends. "They were too full of testosterone, even for me!" he says, adding, "I wanted a bit more balance - to see myself in the characters." He found the more balanced, human characters he was searching for when he rediscovered anime in high school. After becoming a fan of mid-1990's broadcast anime like Dragon Ball Z and Sailor Moon, Maximo began scouring the internet to find other titles. Around the same time, his love for Japanese RPGs such as Chrono Trigger and Final Fantasy Tactics inspired him to expand the depth of his characters. As his art style became more diversified as it took cues from both anime and superhero comics, he discovered that most of his classmates were not as happy to embrace both styles. "Half of the people in my high school loved anime, but the other half hated it," remembers Maximo, who decided to press on with his own style, regardless of how other people labeled it. He credits that same determination as the reason he decided to enroll in art school after high school: "I knew early on that this is what I liked to do, so I figured, 'why not keep doing it?' I'm too boneheaded to quit; I think that if I keep doing something, I'll succeed eventually." Although he didn't realize at the beginning of high school, success was coming for Maximo in the very near future.
As he made his way through school, Maximo not only devoted time to school work, but spent most of his free time trying to find other outlets for his work. His work ended up on the virtual character battle site Entervoid.com, where his action-oriented characters grabbed the attention of site users early on. The character-focused nature of Entervoid was a good fit for Maximo, who first began developing his sequential art through his characters. "I like [my characters] to make their own choices, have personal histories, and so on," says Maximo, who still roots his stories in the lives of the characters he creates: "I feel like the more contrasts I can make between characters, the more fun the story is." As he promoted his work online, Maximo came across another opportunity: to submit his work to the Rising Stars of Manga contest held by Tokyopop. With the support of his friends behind him, Maximo "went in guns blazing" (as he puts it) to create a story for the competition. The tale, titled Hellbender, features a vampire hunter trained by his grandfather to battle the evil monsters chasing him. Although Maximo doesn't consider the story to be his best work, it was enough to impress the Rising Stars judges, and Hellbender earned a spot in the fourth volume of the Rising Stars series. After his win, the Tokyopop staff gave him the contact information for editors at the company so that he could keep in touch and let them know his availability. This gesture would pay off in the future - but before that, Maximo decided to follow his love of comics to art school so he could develop his technique.

Avocado Allegrando
Shortly after landing in Comics and Cartooning school in New Jersey, Maximo set to work refining his style. The pacing of his stories was one of the first things he worked on, followed by stronger representations of anatomy, perspective, and other key focus areas of art school. Although he has worked hard developing the technical aspects of his work, Maximo is quick to admit that a big part of his work comes straight from his gut. For camera angles and other cinematic elements in his stories, he goes from memory: "I'll remember a striking shot from a film or anime, and then I use those camera angles [when I draw]." For poses, Maximo will often try posing by himself and sketch similar poses based on how the pose felt - as long as it matches the feelings of the character he is sketching. "I'm more concerned with how something feels instead of cataloging details," says Maximo. "I'm concerned with motion, beauty, gestures and so forth. It's all about priorities and what you want your work to express. Some people obsess over anatomy; I worry about being expressive first, then take care of the other details." As Maximo worked his way through college, he made a point to continue contacting the editors at Tokyopop to check on new opportunities. After a few years of school, his opportunity arrived.
Tokyopop contacted Maximo about an action project created by writer/artist Andy Helms, called Bombos vs. Everything. Since Maximo wanted to gain more experience but felt like he wasn't quite ready to do his own story, Bombos was a perfect fit. He worked with editor Alexis Kirsch to tweak the story and finish the artwork, eventually creating one quarter of the story by himself. Although the story wasn't his creation, the theme of the work was close to Maximo's action-focused style. Bombos tells the story of a young, bat-wielding fighter who dreams of going to the city - but has to take on a group of mysterious fighters to earn the right to go there. The project was a crash course in pacing for Maximo, who found himself burned out after he tried to finish two full pages a day as the project started. Eventually he adjusted to the pace, finishing the 200-page project in a few months. "When I first did comics, I wanted to make each page 100 percent awesome and action packed," says Maximo, adding, "I realized later the importance of breaks in the action to keep things in check."Although the time required for drawing Bombos vs. Everything meant that he had to stop going to school to free up his schedule for drawing, Maximo was happy to be contributing to the art form that had inspired him so much.
Since Bombos, Maximo has continued to support his comic work by drawing caricatures and submitting work to other publishers. He worked with Tokyopop again on a short story based on the Ghostbusters franchise, while his music-fueled action tale Avocado Allegrando was selected to appear in the Image Comics anthology Popgun 3. Before each new project, Maximo has made a point to review his style. Following Bombos, he experimented with other anatomical designs before working on Ghostbusters, and he practiced colors and patterns before working on his first published color work, Avocado Allegrando. "For each comic," says Maximo, "I try to boil something down and improve on it." At the moment, Maximo has just finished a new comic (available on his Deviant Art) called Select Start Cadenza, the tale of a boy trying to become a sentai robot hero. He's also returned to his earlier stories, and is working on a new version of Hellbender for a potential future submission. Although a lot of his artistic development has been personally motivated, Maximo is quick to credit his friends for helping him succeed. His fiancé Holly, who also works in art, has helped him with advice and planning, while the friends he grew up drawing with, Charles Kent and Edel Tripp, as influences over how his work looks. In Maximo's words, "I couldn't begin to list all the people who have helped me and given me inspiration."

Batman fanart
Although Maximo is certain that he won't be sacrificing his action-packed "sharkfist" style any time soon, he wants to improve upon what he gives to his readers with that style. "I want to pull a full range of emotions out of my readers," he says, lamenting that "I haven't had that kind of a project yet; I have to find project I'm paid for, since I need to keep the cash flow going." Still, Maximo still puts a lot of his own time into developing stories - some of which take a year to create while others take weeks. Among all of that, what has changed the most? "My love for comics," says Maximo. "I loved to draw when I was growing up, but I thought that I could do any kind of art and be happy. But with comics, I can make characters, send a message - there are so many possibilities compared to other jobs." The messages in Maximo's work may change in the future, but it is safe to assume that he'll be bringing his action-packed "sharkfist" style to the fans for many years to come.
---

Avocado Allegrando Pages 1 and 2
ANN: What made you choose the theme of music for Avocado Allegrando?
Maximo Lorenzo: Well, the description for Popgun is that it's the ultimate comics mix tape, and since music is very important to my process, I figured infusing music visually would be a fun challenge.
ANN: Could you walk us through how you bring an action sequence together? What are the key elements that you typically sketch in first?
Maximo: Sure, first and foremost I plot out how a scene will begin and end, and what has to happen within that time period. I begin drawing with key scenes I have to show, followed by scenes in between those to explain or heighten dramatic tension. Then I take all my scenes and work it into rough thumbnails where I try to focus on page flow, which go to tighter thumbnails which focus on aesthetics, detail and contrast. followed up by pencils at a small size to work out shapes and perspective. Then tighter pencils at a comic board size just to make inking faster, before finishing with inks. Basically that's my process for any scene, but for action sequences, I get rougher, draw faster, and use more gestures and extremes to emote speed, ferocity, and power.

(Punchout fanart: Little Mac)
ANN: You mentioned that you got your start working with video game fanart. If you could work on art design and concept art for any video game designer or company, who would you choose and why?
Maximo: Any company? Oh that's really tough for me to pick... Although Nintendo would be my favorite company, I feel like I'd rather work with a newer company, that way I have a better chance of using newer refreshing ideas,characters, and stories when it comes to games. Next level games and Level 5 have been impressing me as of late so I'd go with either of them. What I'd really like is to make an Action RPG for the DSi with downloadable chapters, much like buying a new issue of a comic, that would be so cool.
ANN: You have been a fan of comics and manga in the action genre for many years now. Do you think the quality of published works from this genre has improved, become worse, or stagnated? If you could make one change to how the genre is perceived, what would it be?
Maximo: Ahh...Well I think with anything made, movies, comics, writing, etc., it's going to be incredibly subjective on what is good and what is bad. If you ask me what the best comics are, they are the ones that light up our imagination the most, and make us wonder what is possible - whether that is art, the story, or a concept. Stagnation comes when the people creating have a single goal, and when they try getting to that goal, they do it through imitation of as few subjects as possible. For example, a comic creator wants to do an exciting comic about a super hero. And all they EVER study is the super hero genre, which means that he or she is a slave to the very small world of that genre, and they will follow their source material as much as possible. Instead, I propose we worry less about genre, work out solid questions to the reader, make characters people can empathize with, then fit them into a genre. I really dig Invincible because it felt like the story would be interesting even if it were not based on super heroes. Basically, if I could change the way ANY genre is perceived, it's that the concept of a genre is only icing on the cake. Action, Super-hero, Sports Mystery, Romance, Sci-fi. It doesn't matter, what really matters is what's within that. Can we make people empathize with our characters and situations? Can we tell a story that isn't full of coincidences where everything ties together in the end? Can we create a story that keeps people guessing, one that we can't guess the ending to very easily? Can we make them question themselves morally, ideally, spiritually, about reality? I don't think anything will improve or decrease in any said genre, it's just up to the few people who can keep readers on their toes, who aren't obsessed with the genre itself to keep the them alive.
---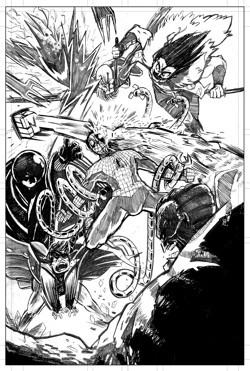 Scream (Spiderman fanart)
Want to see more of Maximo's work? Go here:
Maximo's official portfolio adorns his home page, while some of his more recent stuff can be found on Deviant Art here. He also maintains a twitter account here.
You can order Bombos vs. Everything from Amazon here, as well as from any major bookstore.
---
Are you an aspiring manga artist looking for some extra page views? Do you have a friend or loved one who draws extremely good original manga but needs a boost? Don't just sit there! Submit two links to your work, including one original piece (no file attachments please! File attachments will transform into post-apocalyptic killing machines that knit sweaters in their spare time), to evan [at] animenewsnetwork dot com, and you could be featured in a future Gallery column!
All works © Maximo Lorenzo.
---
discuss this in the forum (2 posts)
|