×
remind me tomorrow
remind me next week
never remind me
Subscribe to the ANN Newsletter • Wake up every Sunday to a curated list of ANN's most interesting posts of the week.
read more
The List
7 Anime About the Woes of the Workplace
by Lynzee Loveridge,

The world of adulthood is wracked with responsibilities. There's the nine to five grind, house maintenance, bills, and sometimes even a spouse or children to take care of at the end of the day. This isn't the world of swords and sorcery or giant robot battles, so it isn't surprising that these day-to-day dramas are often underappreciated as entertainment. Even slice-of-life series rarely focus on a working class adult, instead favoring the aimless conversations of teenagers in their high school clubs.
I previously wrote lists of anime focusing on romance outside of high school and series about raising kids. This week, we'll look at series focusing on adults in the workplace, whether it's in the anime industry, bartending, or negotiating the release of hostages.

Shirobako P.A. Works' currently airing Sakura Quest is the company's third original series focusing on working life, the previous two being Hana-Saku Iroha and Shirobako. The former follows a lovesick high school student learning responsibility the hard way at her grandma's traditional ryokan. Shirobako, on the other hand, has become nearly synonymous with anime industry conditions thanks to its frank view of the pressure put on animators and the hurdles that face aspiring voice actors trying to break into the industry. Ema, for example, faces going hungry if she cannot hone her drawing skills to the required speed. Following your dream is rarely a smooth ride, with characters like Misa finding financial security by sacrificing artistic ambition. Shirobako is a shining example of when idealistic dreams meet reality and must adapt to that truth.

Servant × Service If the Shirobako description sounded way too heavy, the workplace comedy Servant × Service might be more in line with your tastes. The story follows protagonist Lucy, whose name is actually a mile long thanks to her parents' indecisiveness. She's lived with being a joke for too long, so she decides to become a civil servant at the office where her name was approved to give whichever employee is responsible their comeuppance. In the meantime, she's stuck with wacky coworkers and all the "perks" that come from working with the public day in and day out. If this was an American comedy, Lucy would work at the DMV or Social Security Office, places known for their soul-crushing horrors.

Bartender Being a bartender is a special kind of job that requires the ability to multi-task while being an impromptu therapist for clients. Ryu Sasakura is that bartender. Always unflappably cool and knowledgeable, he makes his visitors just what they need to work through their troubles. The series is episodic and even offers a drink recipe at the end so viewers can try it out and become a "Glass of God" among their social circle.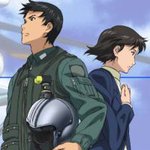 Yomigaeru Sora -Rescue Wings- Kazuhiro Uchida always wanted to fly fighter jets, so he joins the Japanese Self-Defense Force in the hopes of making his dream a reality. What Uchida didn't expect is that a military career involves a lot of yelling "how high?" when your senior officers tell you to jump. He finds himself stationed in the middle of nowhere, the subject of reprimands from his seniors, and he's not even flying jets; he's been switched to rescue helicopters. Uchida wants to quit, which is laughable if the JSDF is run anything like the U.S. military, but he starts to adjust to finding value in his new assignment as a rescue helicopter pilot.

Space Brothers Mutta and Hibito are two brothers who shared the dream of becoming spacemen, after one night of gazing upward results in them spotting a UFO. Hibito wants to fly to the moon, while Mutta imagines heading to Mars. Flash-forward to 2025, and only one of the two brothers has found success. Mutta is out of work while his younger brother might actually step foot on the moon. This all seems like a setup for sibling rivalry when Mutta's luck changes, and he's accepted to undergo astronaut training at JAXA. Astronaut training is not for the weak of heart, or body for that matter, as Mutta will soon learn how stressful following his dream will be.

The Great Passage The Great Passage is an unfortunate victim of Amazon sitting on the series too long prior to the company's Anime Strike service launching. As a result, many viewers missed out on a truly unique series about a man who has only lived through books, who learns how to connect with people while putting together a dictionary. Majime has no meaningful relationships because he cannot seem to find the words to build them, but building a book of words enables him to find his voice and convey his feelings to new friends and even a romantic interest. Through his job, Majime undergoes a journey to find his calling and create a fulfilling life for himself.

Yugo the Negotiator Yugo Beppu is called in to handle a crisis in Pakistan, where a woman's father is being held hostage by a rebel group trying to overthrow the government. Later in the series he tackles the KGB while trying to retrieve a young girl held in Siberia. So this definitely isn't your everyday type of work, but even though his job is action-packed, Yugo isn't the trigger-happy type you might see in a Hollywood movie. He's a civilian profiler who's able to get into the heads of his targets to work out safe release for their victims. The anime does a great job of focusing on the psychology behind these negotiations. The creators even actually visited Pakistan to do research for the first arc of the series.

The new poll: Which summer anime are you most looking forward to this year?

The old poll: Which anime/manga teacher do you admire most?
Assassination Classroom: Koro-sensei
Fullmetal Alchemist: Izumi Curtis
My Hero Academia: All Might
GTO: Onizuka Eikichi
Mob Psycho 100: Arataka Reigen
Naruto: Jiraiya
Yuri on Ice: Victor Nikifolov
Yu Yu Hakusho: Genkai
Azumanga Daioh: Yukari Tanizaki
Dragon Ball: Piccolo
One-Punch Man: Saitama
Hunter x Hunter: Biscuit Kruger
Natsume's Book of Friends: Nyanko-Sensei
K-ON: Sawako (Sawa-chan)
Interviews with Monster Girls: Tetsuo Takahashi
Rurouni Kenshin: Hiko Seijūrō XIII
Showa Genroku Rakugo Shinju: Yurakuchatei Yakumo
Naruto: Minato Namikaze
Legend of Galactic Heroes: Yang Wen-li
One Piece: Silvers Rayleigh
---
When she isn't compiling lists of tropes, topics, and characters, Lynzee works as the Managing Interest Editor for Anime News Network and posts pictures of her sons on Twitter @ANN_Lynzee
.
---
discuss this in the forum (31 posts)
|