Interest

Shonen Sunday Launches Detective Conan Twitter

posted on by Gia Manry
Account features tweets from character Conan, responses to users
---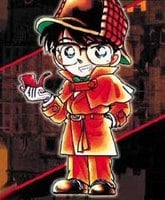 Shogakukan's Weekly Shonen Sunday magazine has launched an official Twitter account called conan_file which tweets from the perspective of Conan Edogawa, the main character from Gosho Aoyama's Detective Conan manga (published as Case Closed in North America).
The account launched on Tuesday and has amassed over 3,000 followers. The official Shonen Sunday website tells fans to "definitely follow him, and also try replying." The account only follows one other, the official Shonen Sunday Twitter account, but has retweeted and responded to other Twitter users.
Aoyama launched Detective Conan in Weekly Shonen Sunday in 1994 and continues to draw it. The series is now 68 volumes long in Japan. An anime adaptation began airing in January of 1996 and is also still running, and two live-action specials aired in 2006 and 2008. 14 movies have been released to date as well as various OVAs and TV specials, including a Lupin III vs Detective Conan crossover.
VIZ Media and Funimation began releasing the manga and anime, respectively, in North America in 2004; the first 50 episodes of the series aired on Cartoon Network's Adult Swim and are occasionally re-run, although no additional episodes were aired.
Thanks to Sky for the news tip.
Source: Comic Natalie
---