Interest

Life-Size Gundam's Parts Auctioned for 4 Million Yen

posted on by Egan Loo
3 spare parts, 3 decals for 59-foot statue fetches US$46,900 for kids' vaccines
---

The online website Yahoo Auctions! Japan sold three spare parts and three decals from the 1/1-scale, "life-size" Gundam statue for charity for 4,001,000 yen (about US$46,900). The auction ran from August 16 to August 23 and ended after 224 bids. The charity benefits the Japan Committee "Vaccines for the World's Children."
The fiberglass-reinforced plastic parts with an urethane-resin coating were for the 18-meter-tall (59-foot-tall) statue that once stood at Tokyo's artificial Odaiba island last year. The statue now stands at the central Japanese city of Shizuoka, the "model capital of the world" and the home of Bandai's factory for Gundam plastic models.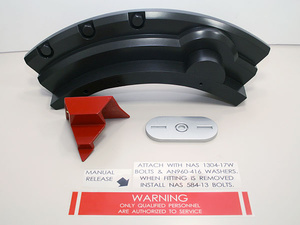 In particular, Part A is from an operating part of the hip joint, Part B is from the tip of the feet, and Part C is an exterior detail used throughout the body's surface. The clear acrylic film decals were made on a thermal wax printer and would have been used on the lower arms and lower legs.
The parts from the Gundam statue were on display at the Gundam Super Expo, which ran into Tokyo from August 10 to 19. A second set of spare parts will go on auction on September 13.
Sources: Yucasee Media, Temple Knights
Images © Sotsu, Sunrise
Update: The largest piece, Part A, is about 55 centimeters (21 inches) long.
---