Interest

Haruhi Author, Illustrator Send Messages on Star Festival

posted on by Egan Loo
Nagaru Tanigawa, Noizi Ito mark Tanabata; wishes to be sent to quake-hit Sendai
---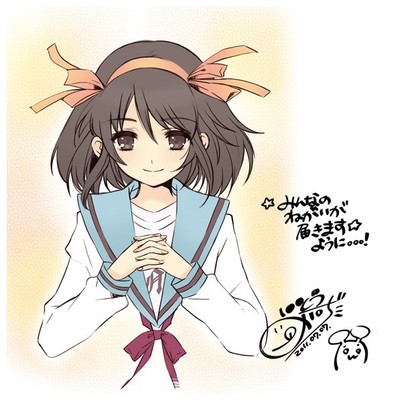 Nagaru Tanigawa and Noizi Ito, the author and illustrator of the Haruhi Suzumiya light novels, are posting messages for one day only on July 7. (In the linked page, select the two large twinkling stars to see the messages). On this day, Japan celebrates Tanabata, a festival marking when two star-crossed lovers — Orihime (Vega) and Hikoboshi (Altair) — meet in the evening sky for one night a year. This date also plays a crucial role in The Melancholy of Haruhi Suzumiya and The Disappearance of Haruhi Suzumiya light novels (and their anime adaptations).
The website had accepted wishes written and submitted by visitors before July 7, and some of those wishes will be brought to the Sendai Tanabata Festival, which will be held from August 6 to August 8. More details will be announced on the official Haruhi Suzumiya website in late July. Traditionally, people write their wishes on paper and hang them on trees during Tanabata.
Ito had posted a earlier, similar illustration of Haruhi offering prayers for the victims of the March 11 Great Eastern Japan Earthquake (Higashi Nihon Daishinsai) disaster. Sendai was the closest major city to the epicenter of the disaster, but the city has vowed to uphold its annual Tanabata Festival tradition without changes, in the spirit of rebuilding.
[Via Yaraon!]
---