Interest

Live-Action Gatchaman Film Cast Previewed in G-Suits

posted on by Joanne Mertz
20-million-yen suits give live-action film an "edgier" feel; story also outlined
---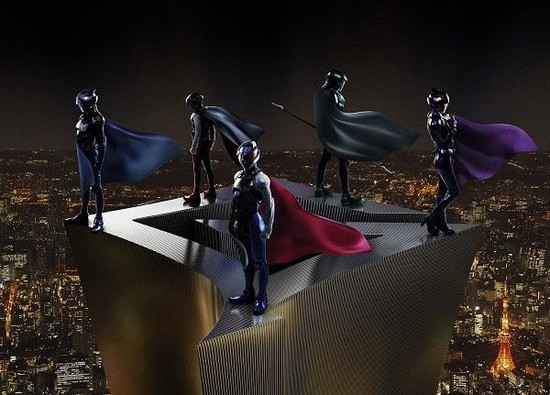 Production company Nikkatsu revealed a visual on Wednesday for the new live-action movie version of the classic Tatsunoko Productions science-fiction hero anime Science Ninja Team Gatchaman. The visual shows the five main characters in their signature G-suits. According to Nikkatsu, the new suits give the movie a more realistic, "edgier" feel compared with the anime.
Regarding his impression of the suits, actor Tori Matsuzaka (.hack//The Movie , live-action Kyō, Koi o Hajimemasu, Samurai Sentai Shinkenger, Kamen Rider Decade ) commented that "the suits were form-fitting for the five of us to move easily for intense action, and allowed us to fly about the shoot freely." The suits alone cost the production a total of 20 million yen. (about US$200,000).
Director Toya Sato (live-action Grave of the Fireflies, Sexy Voice and Robo, Kaiji, Gokusen) started shooting the film last October. Yūsuke Watanabe (20th Century Boys , Gantz , Bloody Monday, 2013 Dragon Ball Z film) wrote the script, and Shinji Aramaki (Appleseed films) is designing the characters. Takashi Yamazaki (Juvenile, Returner, Always: Sunset on Third Street , Ballad, Space Battleship Yamato , Friends: Mononoke Shima no Naki ) is handling the visual effects. The film will have more CG cuts than Yatterman (1,300) and Gantz (1,000 between the two films).
Matsuzaka stars as Ken, the head of the eponymous team. Gō Ayano (second-in-command Jō), Ayame Gōriki (explosive yoyo-wielding Jun), Tatsuomi Hamada (youngest member Jinpei), and Ryōhei Suzuki (main pilot Ryū) round out the cast.
The five serve as agents of the International Science Organization in Tokyo in the near future. Galactor, a mysterious group whose technology far surpasses that of humans, has declared war on the entire world and has already subjugated half of it. A mysterious crystal-like object called a "stone," is humanity's only hope. Those who are able to draw out the power of the "stones" are forced to train to become special agents in a five-person team called "Gatchaman."
The film will open in theaters in Japan on August 24.
Source: Mainichi Shimbun's Mantan Web
---